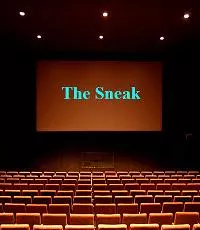 Fernando de Sousa, Wikimedia Commons
While I'm constantly amazed at the number of movie theaters in St. Louis that offer beer, wine and decent coffee, there still aren't many places you can enjoy a good cocktail during the show. What's a sneak to do?

1. Pre-mix the cocktail and bring it in a bottle or thermos.

This is all right for simple cocktails, like a screwdriver, but for something more complicated or garnished, this is a poor choice. It's also hard to get an appropriately-sized serving for a two-hour movie.

2. Assemble the cocktail in the theater.

Admirable -- but unnecessarily complicated. I appreciate the panache it takes to carry a cup and separate containers of gin, vermouth and olives into the theater, but I abhor the potential mess and the distraction of projected light transcribing the arc of a silver cocktail shaker in the dark.

3. Go without.

Absolutely unacceptable. A quick perusal through the archives of this blog will shortly inform you that reasonable self-denial is not one of my virtues.

4. Whip up some solid-state cocktails.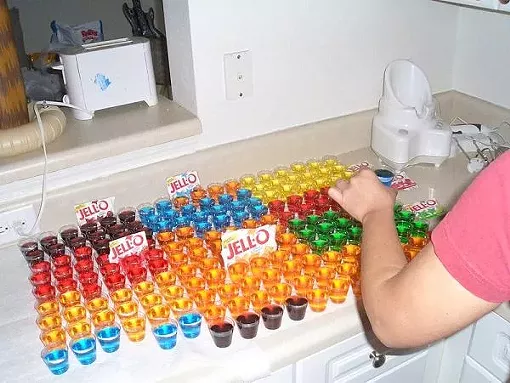 User "Robbie1981," Wikimedia Commons
This is not what Dara is talking about.
Solid-state cocktails are exactly what they sound like: your favorite cocktail, garnish included, rendered solid and remarkably portable with gelatin (or agar for sneaky vegans). Solid-state cocktails retain all the color, flavor and aroma of their liquid form but also stack easily for sneakability. Even with a group a friends at the same movie, everyone can have a different cocktail, easily told apart because of the garnishes sitting as if in amber. A dozen servings, at least, will fit in a gallon plastic bag inside a bag, and a stack of three or four fits the deep pocket of a winter coat. Watch out for lint, the garnish you'd rather do without.
Solid-state cocktails are not Jell-O shots. Jell-O shots, like casual smoking and Dane Cook, are the necessary repugnancies of youth, a crucible in the development of taste. Jello shots are meant to be devoured as quickly as possible, before the cover of what a sentient factory in New Jersey believes a lemon tastes like dissolves to reveal pure grain alcohol. Solid-state cocktails use an unflavored solidifying agent so the character of the liquor is showcased, not concealed.
The following example was quite popular (and potent!) with my incredibly scientific testing group of the two people I like to take to the track.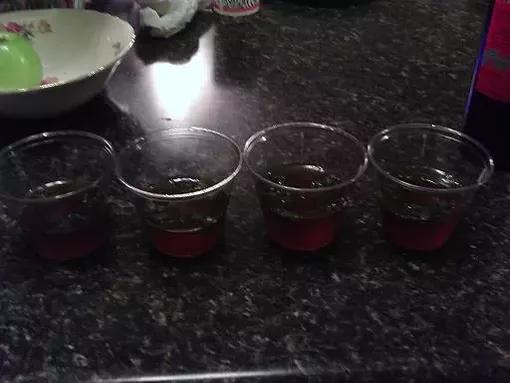 Solid-State Mint Julep
2 packets unflavored gelatin
1 1/4 cups bourbon
3/4 cup simple syrup
10-15 fresh mint leaves

Pour 1/2 cup of bourbon into a deep heatproof bowl, preferably with a pour spout. (I use heavy melamine, thicker glass or ceramic would also be fine.) Sprinkle the gelatin powder evenly over the surface of the bourbon and let sit 5 minutes. It will form a grainy, transparent, unappetizing morass, but it's nothing that more booze won't fix.
While gelatin is setting, pour the remaining 3/4 cup of bourbon and 3/4 cup of simple syrup into a saucepan and heat on high to a manageable boil. Before the bourbon and syrup begin to boil, add the whole* mint leaves, stirring constantly and crushing the leaves against the bottom and sides of the pan.
Once the bourbon mixture boils, slowly pour it over the set gelatin while using the spoon to hold back the mint leaves. Stir the bourbon and gelatin together until no trace of gelatinous graininess is left -- about 5 minutes. Pour the completed cocktail into a lightweight disposable cup and chill in the refrigerator. They will achieve full solid-state in about 2 hours. Makes 4 generous servings.
* Don't chop the mint leaves beforehand -- that makes them much more difficult to keep out of the finished product. Heating the leaves and muddling them will do plenty to release their flavorful oil. The leaves themselves can have a bitter aftertaste (which I alone of my testing group liked) and look suspiciously like something that could be healthy. In the juleps pictured above, I added uncooked chopped mint before refrigeration.
As a concept, the solid-state cocktail owes its existence equally to Jell-Oshots and the immense Jell-O molds of yesteryear, squiggling through space and time like an alien flotilla studded with sliced bananas and maraschino cherries or carrot shavings frozen like Han Solo in carbonite. In my grandmother's house, that was a salad as log as there wasn't Cool Whip on top of it.
Simple Syrup
(It's worth it.)
1 cup water
2 cups sugar

Dump the sugar into the water in a heavy saucepan and bring to a boil. Stir constantly to monitor how well the supersaturation is going and prevent the denser sugar from settling to the bottom of the pan and burning. After the sugar is so well-integrated that the boiling liquid is clear, take it off the heat.
Simple syrup can be kept in the refrigerator in a bottle or any other water-tight container until it starts turning into simple rock candy. This stuff has a million uses, from making mojitos or great authentic Southern sweet tea to a quick no-fuss glaze for pastries and tarts. I've even used it as an food-safe adhesive to be sure something would stay put on a platter during transport. If you want to get really creative, you can even infuse it with vanilla or, my favorite in colder weather, cloves.
Don't buy simple syrup. That's like paying to park in the Zoo's parking lot instead of parking at the Art Museum for free: a tax on tourists.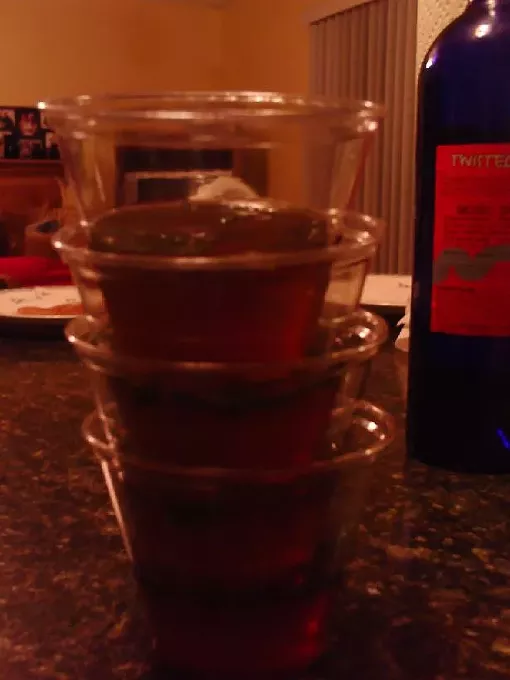 The basic recipe for solid-state cocktails is practically as easy as simple syrup and, like that tasty sugar water, the possibilities are nearly limitless. Just mix at this ratio:
(1) packet gelatin dissolved in (1/4) cup of liquid, then add (3/4) cup of boiling liquid

Figure out the liquid based on how liquids are apportioned in the cocktail you are solidifying.
Some recommendations:
- Solid-state cheap champagne with whole raspberries or mandarin oranges suspended

- Solid-state gin and tonic (this is particularly dramatic because quinine glows under a blacklight)

- Solid-state sangria

- Solid-state margaritas with sea salt pressed into its mostly-gelled foot

I'm still perfecting the solid-state Blood and Sand, the greatest terrible-sounding cocktail known to man.
Dara Strickland is a leading expert on sneaking food and drink into the movies. She reports on her exploits for Gut Check (from an undisclosed location) every Monday.