Todd Ehlers, Wikimedia Commons
Have you been despondent since last week's post? Worried about
eating sea pie and dying alone
? It's time to find you a man with 1952's
Date Bait: The Younger Set's Picture Cook Book
by Robert H. Loeb, Jr., which was loaned to me by Kelly of
Sounding My Barbaric Gulp
.
I don't have to bait a date. My husband Brian and I will mark ten years of wedded bliss in a few weeks. I didn't even have to make a Cheemato Soufflé to win his heart.
Pasta and putting out did the trick and was a hell of a lot easier.
First, interpret Loeb's recipe. As he explains in the introduction, regular recipes are too gosh-darn hard to understand, what with their words and numbers. Thus, the picture book format, which either means that women who needed help baiting a date were too dumb to read, or that girls were encouraged to start building their date-baiting skills in first grade.
Second, heat canned tomato soup with quick tapioca and water until it boils. Remove from heat and stir in a pound of American cheese. Eventually, the mixture became so hard to stir that I had to get my big, strong husband to do the task, sacrificing any baiting.
It's done when the man of the house starts complaining that stirring hurts his shoulder.
Separate some eggs and whip the hell out of them. Stir the yolks into the cheesy shower caulk. Then, gently and oh-so-delicately fold the 80-pound mixture into the beaten egg whites. Pour into a casserole dish and bake.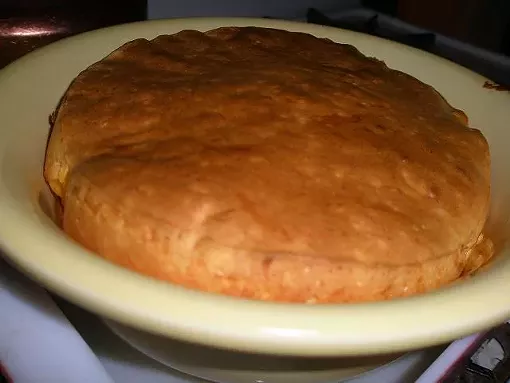 This quiche, like love, defied all laws of logic and physics: It rose. It also tasted a lot less horrible than we expected. It didn't taste good -- it just didn't taste much.
Knowing how to make a soufflé probably worked to my advantage in keeping things aloft. So did not having the pressure to bait. I know I can sweet-talk my man into stirring a pot of boiling faux cheese and condensed soup, make him eat it, and he's still going to be here in the morning. Probably.
Robin Wheeler writes the blog Poppy Mom. After years of making and eating fancy food, Robin is sick of it all. She's returning to the basics: recipes that haven't surfaced in three decades. She reports on the results for Gut Check every Tuesday.After one last jump, Robin's basset hound delivers his own review of the soufflé...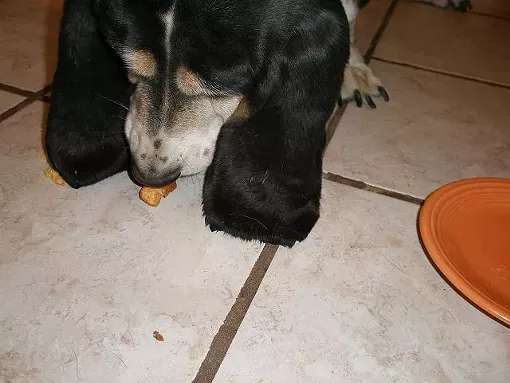 Robin Wheeler
Notes Robin: "My dog never spits out anything."