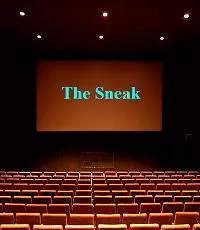 Fernando de Sousa, Wikimedia Commons
Julia Child is haunting me.
In full disclosure, I invited her in. I just didn't realize that beloved, deceased TV chefs followed roughly the same rules as vampires. Man, that is going to be no good for Mario Batali. That gentleman has stringent minimum garlic requirements.
Here's the deal: I was going to make a delightful recipe from one of Julia Child's books to sneak into
Julie & Julia
, the new partial biopic about Julie Powell, a blogger (who later collected her blog as a book) who cooked her way through Julia Child's seminal
Mastering the Art of French Cooking
in a single year, intercut with scenes of how Julia actually got to be, well, Julia. See what I was doing there? I was going to write a blog about sneaking food into a movie about a book about a blog about a book about making food.
I had prepared charts.
User "MDCarchives," Wikimedia Commons
But I ran into a snag looking for a suitable recipe. The whole point of French cooking is that it's difficult to transport. Soufflé will fall. Beurre blanc will congeal. Ever tried to get homemade Hollandaise out of the liner fabric of a purse? Avoid. If it were up to the French, the secrets and complexities of French cooking wouldn't just be safe from heathen shores, they'd never leave the table. Encountering problems with substantive food preparation, a movie-unfriendly cough, and one-armed dining companion, I opted for the exotic charms of
roti and ripped abs
.
To me, this was not a big deal. I don't ever remember seeing Julia Child's actual show on TV and have absorbed a knowledge of her as I think most people have, through marination in the general culture. There have been a feast of writings and interviews following
Julie & Julia
, and the common thread seems to be that people always imagined her in the kitchen with them as they cooked, imagined having a conversation with her.
Where I come from, nobody in the kitchen sounds like Julia Child. They all sound like Paula Deen, down to the butter-explosion recipes they oversee and the glorious shifting vowels of a hearty "Y'all come eat! S'gettin' cold, now!" The closest I've ever come to an imagined conversation with Julia Child is a running gag I once had with a roommate about dropping things in the kitchen. We both cooked quite a bit, frequently as the formidable tag team Iron Chef Sandwich (him) and Iron Chef Omelette (me), and whenever one of us would fumble or decide to try to make the other laugh, we would adopt the vocal tone of a turkey pretending to be a British aristocrat and bray:

And remember, you're the only one in the kitchen. Bwo ho ho ho ho!
It was funny, not
accurate
. Mostly funny because it was so inaccurate.
So I wasn't too torn up about it. The flick looked decent, especially as a primer on how to get your food blog eventually turned into a major studio release, but it was popular and I figured I'd see it eventually. Watching it on home release wouldn't be the worst thing, either. If I still wanted to sneak one of Julia's recipes into a movie, I had plenty of time to figure it out in time for the perfectly appropriate
French Film Festival
.
My strongest emotions about giving my
Julie & Julia
plan the chicken-liver treatment was horror at the amount of aspic in the cookbook I was perusing and general annoyance at interviews like
this one
where both the interviewer and writer/director Nora Ephron seem to have a hard time remembering that Julie Powell is a real person.
Spectral Julia Child, though, once invited into my life, once teased but not appeased, decided to make her presence undeniably clear.
It all started with lobster bisque. Not unusual, certainly not supernatural, is
my predilection for lobster bisque
, particularly from Café Ventana. I was a few blocks away doing something where I could easily leave for twenty minutes and walk down the street to get some food there. They have lobster bisque every day; I order it about 75% of the time when I go there. Not unusual. What was unusual was that it was at least a hundred and twenty degrees outside and I could barely look at anything but the hot, heavy, cream-based soup. Odd, but not unsettling.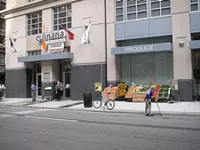 A few days later, I went to get lunch at the newly-opened
Culinaria
, Schnuck's awesomely tarted-up urban grocery store. As someone with an office Downtown, I've been eagerly awaiting the store opening and giving me world of new eating possibilites - pizza by the slice, a salad bar, deli case, everything! So for my first carry-out lunch, I came ready to conquer and walked out feeling...well...confused.
Like a bullet, I bypassed all the things I had been looking forward to trying and went directly to the cold, prepackaged soup case. With so many hot, freshly-made choices, I went directly to the one thing would ensure that I would be standing at the microwave in the office kitchen once again, tapping my toes. Or would I? After pausing only very briefly to consider a cold strawberry soup with champagne, my fingers darted to a container of cold soup and latched on: Vichyssiose.
Vichyssoise, of the cool, leeky refreshment and smooth texture! Vichyssoise, so very, very French! Vichyssoise, probably not a fair thing to choose when trying out the quality of a new grocery store! Vichyssoise, why on earth would I ever have thought you would be a convenient thing to eat at the office? Vichyciosse, on the highest shelf of soups - quite a reach for a 5'5" Sneak but right at eye level for someone who is 6'2".
Damning and disconcerting enough, I know, but I also grabbed a salad of marinated shrimp and scallops with black olives and roasted red peppers. I HATE olives. I always have. I cannot wrap my palate around their essential olivosity to get to their other virtues. Somehow, I loved it
I also got a tiny baguette of crusty bread, but that's inconclusive. Spectral Julia Child haunting or not, I already love crusty bread to the degree that I would marry it in some sort of carb-loaded ceremony sanctioned by the pasta pope. I just hope that no-accout brioche doesn't show up to pound on the glass and confess his love. I'm not in the business of giving second chances.
Jennifer Silverberg
On Vin de Set's roof
This weekend I dined at Vin de Set. Normally, I "have dinner." Too bad that term describes everything from going out somewhere nice to standing over the sink trying to figure out whether or not I want the hummus at the bottom of the container bad enough to scoop it up with the only available thing: half a lemon shortbread cookie. No, this was definitely "dining," with great food, enjoyable wine, a beautiful view from the terrace and the best company I've ever been ice-fingered nervous about entertaining.
Vin de Set certainly did their best to fill me in on their special 3-course menu for the night, a very special menu because it just happened to be the birthday of a famous chef. Not just that, it was even
more amazing
because it included everything that a famous chef had said she wanted for her last meal on earth. And it looked so good to me...
Ok, Spectral Julia Child, I know it was your birthday, but I don't eat foie gras. At all. Go poke someone else with your spectral shrimp fork.
In the course of trying to understand why I'm being haunted by this woman to whom I previously had the barest culinary connection, I made an interesting realization: Julia was a sneak. I'm not impugning her legacy as a movie-goer (though I have a hard time imagining someone else so thoroughly enjoying oysters during the previews) but rather pointing out all the things that she brought into the mainstream, literally broadcasting the secrets of French cooking into America's home kitchens.
It was an admirable double-sneak: not only did she bring Le Cordon Bleu's best techniques out of France in a clear, witty, well-written volume, she convinced her TV audience that French cooking was no unattainable, inviolate monolith but something to do at home with a spare lamb shank and a heavy pot. I appreciate that. I appreciate that the legacy of that sneak isn't an awesome once-a-year dinner special at a neo-French restaurant but rather the plastic carton of vichyssoise at a brand new grocery store.
My appreciation comes to naught. Late last night as I rooted around for appropriate omelette fillings, the only light in the kitchen spilling, milky, onto my ankles from the open refrigerator door, I heard it:
And remember, you're not the only one in the kitchen. Bwo ho ho ho ho!
Spectral Julia Child, this is your final warning. You have haunted the wrong sneak.
Dara Strickland is a leading expert on sneaking food and drink into the movies. She reports on her exploits for Gut Check (from an undisclosed location) every Monday.