This week, I drove past three prospective bars, and all were far too nice for the likes of me. I was forced to play GPS Bar Roulette, in which I pick the closest bar listed on my TomTom and go with it. Tom delivered me to
Cotter's Sports Lounge
.
I spend a lot of Monday nights in bars, and never have I found one that felt so much like a weekend: decent-sized crowd, pool games in progress and a blissfully overzealous bartender.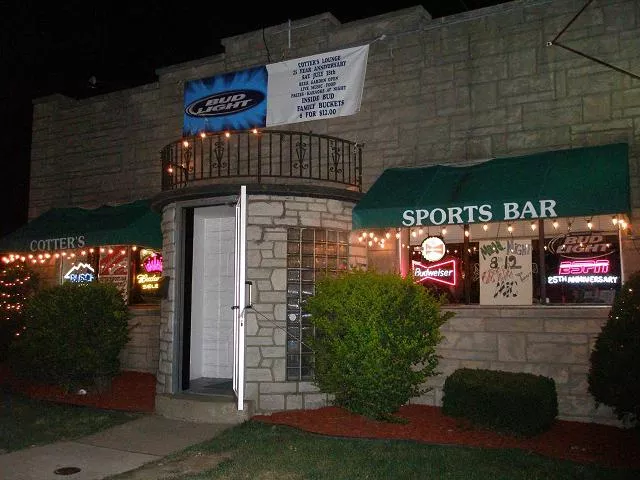 "You want to get a bucket instead? It's cheaper!" he said when I ordered a beer.
Not if I have to pay an emergency room co-pay to fix the effects of adding five beers to the chicken curry and eight espresso shots I'd consumed earlier.
To the pack of guys consuming round after round of shots, the bartender yelled, "You nasty boys! If your mom was here she'd kick your ass!" Later, one of the shot-drinkers told the bartender, "I love you so much I'd take you home and let you fuck my sister."
After a little eavesdropping, I learned that the bartender is
Ali Babba of River City Pub's karaoke
. What I witnessed was apparently Ali's calm side.
As if that wasn't enough entertainment, Monday's open mic night. First up, a middle-aged duo performing decent renditions of Clapton, the Band, and the Grateful Dead with acoustic guitar and bongos. Who knew bongos could carry a 15-minute jam on
"Bertha"
?
Next, a father-son duo with the son on bass and Dad on electric guitar and vocals. They started with The Raconteurs'
"Steady, as She Goes,"
the father mimicking Jack White's nasal whine, only slower and deeper.
At first it made the hairs on the back of my neck stand point, but sometime during their laggard take on
"Californication,"
my brain felt like I'd consumed that bucket of beer -- cotton-brained mesmerized. The performance reminded me of
William Shatner's "Rocket Man."
I could have stared all night.
Robin Wheeler writes the blog Poppy Mom. She also has a strange attraction to drinking establishments with jars of pickled -- or possibly fossilized -- eggs. She reports on these dives for Gut Check every Thursday.