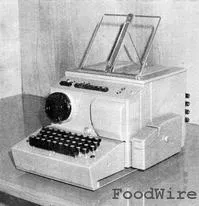 Veritas Gateway to Food and Wine
(
1722 Clarkson Road
) is hosting a five-course dinner featuring
Pahlmeyer Wines
on Wednesday, August 19, at 6:30 p.m. Pahlmeyer Winery sales manager Dave Landis will be a guest. Pahlmeyer Wines include the "Jayson" line, named after founder Jayson Pahlmeyer, which even a cheapskate like yours truly knows is good grape juice.
Dinner costs $125 per person. Reservations are required and -- very important -- limited to only twenty-four diners. Call 636-530-9505 to make that reservation or for more information. Menu and more details about which wines will be served after the jump.
Menu
Appetizers: seasonal Veritas appetizers will be served buffet style as guests arrive

Salad Course: local-tomato Salad with Maryland crab and cheese straws

Pasta Course: Ozark Forest mushroom ravioli with white wine cream sauce

Main course: fresh walleye w/ charred tomato broth, lemon zested spinach & polenta / bison sirloin with roasted corn and fingerling potatoes

Dessert: last-of-the-season berry tart with Kentucky-bourbon cream

As for wine pairings, it's easiest to quote from the press release:
As guests arrive, light appetizers will be paired with Jayson Wines Napa Chardonnay and Napa Valley Red. Missouri's allocation of 'Jayson' Wines has already been sold out for this year; Veritas has procured just enough for this dinner - so this is a great opportunity to try these fun wines.

The "main attraction" of the evening will, of course, be the spectacular Pahlmeyer wines. A glass of Pahlmeyer Chardonnay, one of the Merlot and a third of the newly released Proprietary Red will be waiting for each guest as they are seated for dinner. Each person can taste as they please - testing whichever of the phenomenal wines they prefer with each of the perfectly prepared courses. All three Pahlmeyer Wines will be available for purchase with a special price extended by Veritas to dinner guests only.