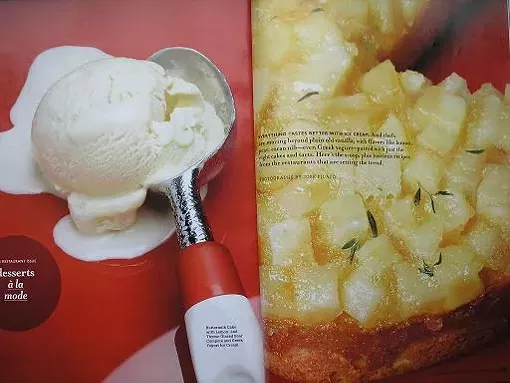 The new issue of
Bon Appétit
magazine, which arrived in my mailbox this weekend and is the annual "restaurant issue," includes two mentions of St. Louis. Details after the jump...
Mathew Rice, executive pastry chef at
Niche
, has a recipe included in the article "Desserts à la Mode." Rice's recipe is for buttermilk cake with lemon- and thyme-glazed pear compote and Greek yogurt ice cream. Photographs of Rice's dessert make up both halves of the article's two-page opening spread (pictured above).
Also in the issue,
Fitz's
is included in a list of six "top picks" for root beers. The brief article describes Fitz's as having a "classic aroma, bold flavor and a sassafras-like sweetness."