Todd Ehlers, Wikimedia Commons
When I was in fourth grade, I loved
Vienna Sausages
and took them in my lunch to school several times a week. I also liked
Laura Branigan
and
Tic Tac Dough
, so what the hell did I know?
I can't remember the last time I had Vienna Sausages, or when I realized that gelatin-packed canned meat isn't the best food choice. Leave it to those jackasses at Good Housekeeping to bring the Vienna Sausages back into my world with their 1967
Keep Cool Cookbook
.
There is nothing "cool" about this cookbook. The recipes are so uncool that they get the hell beat out of them on the playground. Nor are they cooling.
The Vienna-Sausage Shortcake involves baking a batch of cornbread, and simmering cream of chicken soup, cheese, green beans, and Vienna Sausages. That'll sit just fine in your belly during the dog days.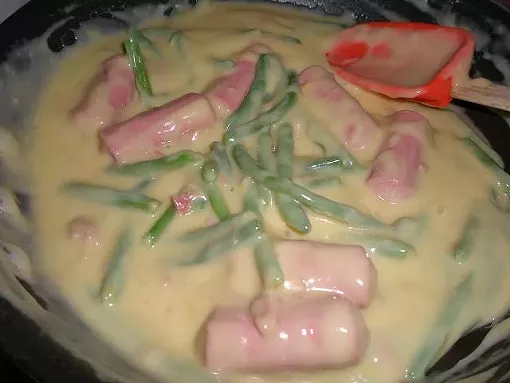 The sausages smelled so much like 1982 that the nostalgia portion of my brain activated my salivary glands. I wanted to like it. I wanted eat Vienna Sausages in soup goop, piled on cornbread just as much as I'd like to wear an Olivia Newton-John headband and do the Belinda dance.
One bite, and I remembered that 1982 was the year my dad got laid off, which might explain the canned-meat products. I also started getting fat that year. I'm going to blame that on the Vienna Sausages from now on.
I was the tallest kid in my class, chubby, eating my Vienna Sausages out of the can in the cafeteria, mumbling "Gloria" under my breath. I should consider myself lucky that I wasn't getting my ass kicked on the playground every day. That only happened about once every two weeks or so.
My husband ate every single sausage out of the dish. Apparently they didn't ruin his childhood.
Robin Wheeler writes the blog Poppy Mom. After years of making and eating fancy food, Robin is sick of it all. She's returning to the basics: recipes that haven't surfaced in three decades. She reports on the results for Gut Check every Tuesday.