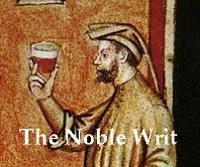 On the relatively few occasions when I dine at a nice restaurant, I'm usually seen carrying my "
geek bag
." (I have used the 820 model for almost ten years.) Inside will be three or four wines from my cellar that I am willing to pay to open pursuant to the restaurant's corkage policy.
A restaurant that allows corkage permits you to bring in a bottle of your own wine and drink it on its premises for a set fee. In St. Louis, this fee usually ranges from $10 to $25, and many finer dining restaurants have a corkage policy, though it may not be well-advertised.
Paying corkage is an attractive alternative for me because -- with a few notable exceptions -- restaurant wine lists tend to be filled with recent vintages of boring wines offered at extraordinarily high prices.
Is he offering you the best wine he can?
While some wines are fine to drink young, any wine that would benefit from some time in the cellar hasn't received it, and that wine will be just a hint of what it will become in its prime. A young age-worthy wine will also probably be on the tannic side, which limits its ability to match well with food. I don't want to drink a 2005 Premier (let alone Grand) Cru Burgundy or 2001 Barolo now -- and, no, it doesn't matter how many points the wine or vintage received, it's too young!
Restaurant wine prices also drive me nuts. I've never been in the restaurant business, so I don't have direct experience with the economic realities of the industry, but I've been buying wine conscientiously for over fifteen years, and it sickens me when I see a bottle that I could buy for $20 at a wine store listed for $50 on a wine list. And remember that the restaurant is paying the wholesale price for the wine -- so that $50 bottle of wine probably cost it $13 or so.
I know the mark-up on food is significant, but at least obvious skill and equipment are applied to transform the raw ingredients into what appears on my plate. Certainly, there are some costs associated with providing quality stemware or a decent living to a skilled sommelier who has assembled an interesting list, and I don't mind ordering off the list and paying a (reasonable) premium over retail if those conditions are present, but that just simply isn't the case in most restaurants.
Finally, insipid selections doom many wine lists. Often, there is no wine I would want to drink, regardless of the price or vintage. All too many lists are assembled with attention paid only to the deals the wine wholesaler is offering, despite very good food emanating from the kitchen. When this happens, I go the corkage route.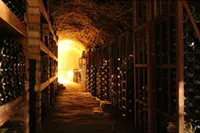 Bring that special bottle you've been storing here.
User "che," Wikimedia Commons
If you choose to take advantage of restaurant's corkage policy, there are a few protocols that may not be apparent. First, call to confirm that the restaurant allows corkage and what the fee is. I never assume that a place allows it or that it has the same policy as it did when I last visited.
Second, bring a decent bottle of wine. You will not be well-received should you arrive toting a bottle of Yellow Tail (not even the Reserve!), nor will you be allowed by most places to open a bottle of wine that the restaurant has on its list. This latter point is one reason that I tend to bring several bottles with me: Another reason: I don't know what folks will order and want to be able to select something appropriate. If you have a special bottle that you've been saving (ideally under decent storage conditions), this is a great time to open it up.
Finally, a couple of financial points. Know that it's customary (which is not the same as necessary) to order a drink from the restaurant as well. Whether it's an aperitif or cocktail, a glass of wine, a whole bottle or an after-dinner whiskey, most wine folks will give the restaurant its full profit on something. It's also customary to calculate the tip on the total of the bill plus the value of the bottle you brought so that your server doesn't get short-changed on her income by your exercise of the corkage policy.
So, the next time you're confronted with or even craving a meal at a restaurant that has good food, but no wine (or wine prices) you enjoy, give them a call and see if they allow corkage. If so, you should find yourself drinking better for less.
Dave Nelson is the author of the blog Beer, Wine and Whisky. He writes about wine for Gut Check every Tuesday.