Today is Martha Stewart's birthday. What do you get the kitchen and style maven who already has everything, including a felony conviction? Gut Check dispatched its crack research staff -- not to be confused with our crack-research staff* -- to find the ten most useless kitchen tools in this or any other universe. Enjoy your gift basket, Martha!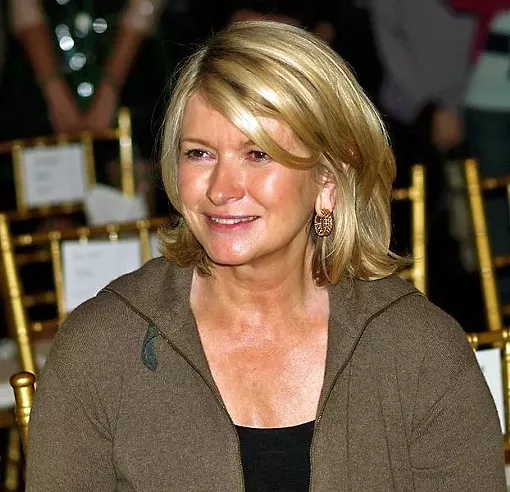 Peter Duhon, Wikimedia Commons
*Yes, I realize I'm the only person in the world who finds hyphenation-based humor funny.
Heart-Shaped Egg Poacher
($9)
OK: The idea behind this seems harmless enough. It's your significant other's birthday, and you want to make him/her breakfast in bed. What could be cuter than poached eggs in the shape of hearts? But there doesn't seem to be a lot of replay value. The reaction will likely devolve from "Awwww" to "Oh, those heart-shaped eggs again!" to "Oh, those heart-shaped eggs. Again." to "I don't want any fucking eggs. You shouldn't have ogled the babysitter like that." I might reconsider if this was the part of a set with
other molds
.
Rooster Cutting Board
($32)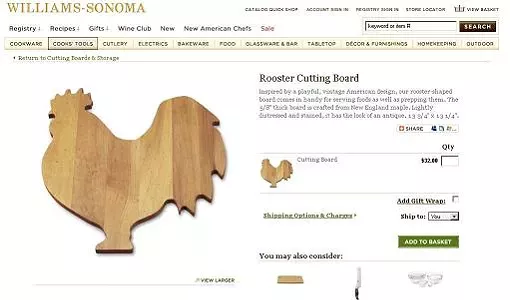 The copy for this gem smartly notes that it "comes in handy for serving as well as prepping them." Go ahead and serve hors d'oeurves off this thing -- I suggest a nice chicken-liver pâté -- because after you try to chop an onion on it and waste time picking up all the onion pieces that have fallen into its irregular curves, you might resolve never to take a whack at this cock again.
Jalapeño Pepper Roaster
($19.95)
You're grilling too often.
Tagco Roasted Garlic Express
($49.99)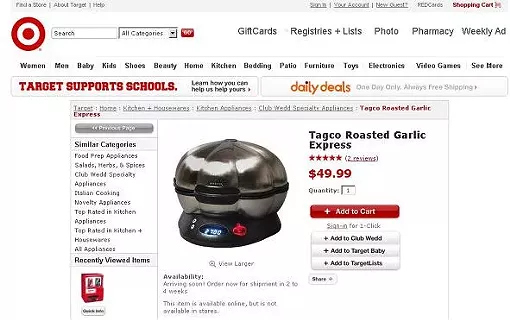 That's not a misprint. The Tagco Roasted Garlic Express will set you back $49.99 -- plus tax
and
shipping because, perhaps understandably, given the howls of laughter that would soon fill the store, scaring off the other customers, it's available only online.
Or you could just, you know, wrap some garlic in aluminum foil and roast it for 45 minuters or so. But, hey, what do we know? Customers who bought this also bought the $30 version of the Roasted Garlic Express, so apparently not only is this essential, but you need more than one!
Speaking of garlic...
Chef'n Garlic Zoom
($9.95)
Also ideal for mincing hamsters.
Meatball Grill Basket
($49.95)
No, really, dude: Put down the tongs and step away from the grill.
Green Herb Snips
($12)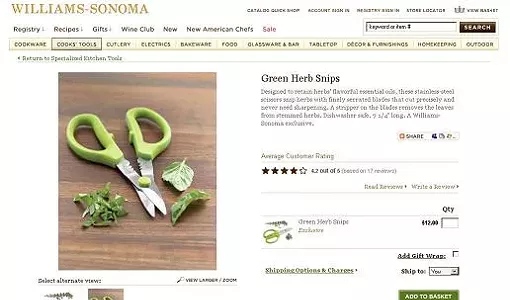 "I'll be right back. I'm just going out to the garden to snip some fresh basil for the pasta."
"Wait! What scissors are you using?"
"I don't know. I just grabbed whatever scissors were in the drawer."
"My God, man. Take the Green Herb Snips. The Green Herb Snips."
Koolatron Vending Machine - Red
($129.99)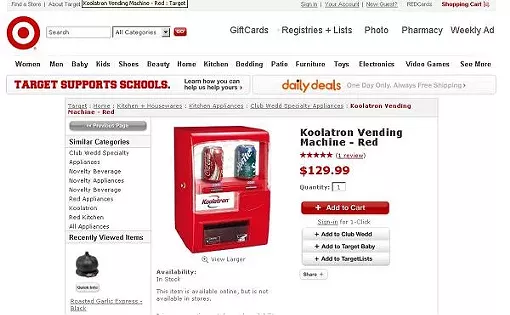 Though you might want to hold out for the second-generation Koolatron, which reportedly will advertise a wide range of soda selections but will serve only Diet Shasta, no matter which button you push.
OXO Rolling Herb Mincer
($14)
"OK, dinner's ready. I'm just going to mince some fresh basil to sprinkle on the pasta."
"Wait! What knife are you using?"
"I don't know. I just grabbed whatever knife was in the block."
"My God, man. Use the Rolling Herb Mincer. The Rolling Herb Mincer."
Head Chef Measuring Cup
($10)
It will haunt your dreams.