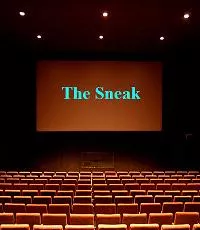 Fernando de Sousa, Wikimedia Commons
Show: Public Enemies, director Michael Mann's latest cinematic man-crush on tight-lipped inscrutability and sparklingly pretty violence played out against the backdrop of the Great Depression.

Food: Chinese food, courtesy of Wei Hong Bakery and Restaurant: crab rangoon, shrimp dumpling lo mein, sesame chicken, rice, coconut roll.

Difficulty: Above average. Like most Chinese restaurants, Wei Hong prepares portions designed for family-syle passing and sharing, not secretive, slumped, cinema slurping. It's just a lot of food to sneak, even if the restaurant did wrap it tightly in a paper bag for me.

Point no accusatory finger at me, naysayers! The selection of delicious Chinese food for this fedoras-and-tommy-guns picture was no caprice of my stomach or schedule. Rather, it was the result of painstaking research into popular American foods of the 1920s and 1930s.

Feature this: With the institution of Federal Prohibition in 1919, an entire avenue of conspicuous group consumption was suddenly closed tighter than Highway 40 at Kingshighway. While liquor, wine and beer were still available in a variety of ways, including the infamous speakeasies (the modern incarnation of which I'll be slinking into in next week's blog), they were illegal and expensive, two things that made them out of reach for the average American entertaining at home.


In response, people found new ways to show off (legally) the wealth of their post-WWI coffers and the marvels of modern shipping technology. Tropical fruit and seafood are two things that made bold appearances not only on the menus of fine restaurants at the time but in the pages of housekeeping magazines. Sodas and candy made major inroads as everyday fare rather than novelty or special-occasion treats, thanks in part to the low price of sugar. Coffee gained popularity (Hooray!), as did low-quality homemade wine (Ew!).
Chinese food, once denigrated as the worst possible offense to humans (and rodents, the oft-rumored secret ingredient), suddenly became popular with people who had not grown up eating it. Americans were looking for a way to showcase a sophisticated palate, and chop suey was about as exotic as they were willing to get.
What does the food of Prohibition have to do with a movie set in 1934, the year after it was repealed? Everything. Michael Mann's vision of John Dillinger's high-living bank-robbing world is, like a magnesium flash, over practically from the moment it begins. The nascent FBI and increasingly organized crime push Johnny Depp's Dillinger into a smaller and smaller area of influence, his takes from the banks he robs dwindling, seemingly, without his notice as he's distracted by love and fame.
The moment, brief as it is, owes its whole life to bootleggers and a culture that came to embrace not only the criminal acts that circumvented laws that had little relation to the way the majority of people lived, but also the criminals themselves. The culture that made Dillinger famous instead of another dead thug gouting his lifeblood out on the alley of the Biograph Theater is the same one. At heart, all bootleggers are sneaks.
Wei Hong Bakery, on the other hand, has nothing to hide. While it may get lost in the cavalcade of different flavors available on South Grand, you'll know as soon as you walk in and see the whole roasted ducks and chickens hanging in the Plexiglas heat locker next to the enormous trays of fluffy rolls and stuffed dumplings that you've found something distinctive.
I have a relationship with Chinese baked goods that will probably result in a restraining order one day. Steamed bread, golden egg custard tarts, wintermelon cakes, lotus paste balls with their crisp lunar surface armored in sesame seeds: I would kick your mother in the shin if she tried to order them off the dim-sum cart before they got to my table. I restrained myself at the bakery counter and actually ordered off the menu to get the best sampling of food for this movie.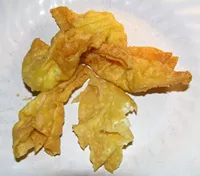 Crab rangoon, crab rangoon, I am biologically compelled to like you because something in the hunter-gatherer portions of my brain tells me all fat is delicious because it used to be so scarce in the human diet. I picked this because it was the most thoroughly Americanized thing I could find on the menu -- sadly, no St. Paul sandwich, of which I am inordinantly fond -- and the best representation of the effects of the American cuisine assimilation machine. These were perfectly fried and still untouchably hot, even after the previews were over. Unfortunately, the filling left much to be desired.
In the light of the next morning, I bit into the one remaining rangoon and scrutinized its contents. The reward for my efforts was a single red fleck that might or might not have been imitation crab meat. Skip these and order some of the amazing dumplings instead.
Speaking of dumplings, my shrimp dumpling lo mein was perfect, either for eating in the movies or eating like a real human being with some concern for having a table. The tasty lo mein was low on grease, high on still-crisp onions, bean sprouts, and cabbage and topped with what must have been eight or nine soft two-bite purses of shrimp and scallions. For sneaking into a movie, lo mein is an ideal dish. There's no sauce to add, no assembly, and it's all in a single container.
The sesame chicken and rice was for my sneaking companion for the evening, a woman who agreed to acompany me to the movie with the naked purpose of eating Chinese food therein after cancelling some other plans. I can say no more without risking exposing her identity, something I swore on sneak's honor not to do.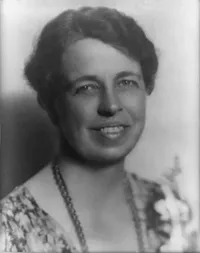 Code name: Eleanor Roosevelt.
Eleanor Roosevelt's sesame chicken was still so hot in its foil container that, even fifteen minutes into the feature, I could barely pull it out of my sneak tote to hand over. Disturbed by nary a vegetable, the crisp-fried chicken pieces eventually cooled but were deemed unfortunately chewy. After sharing the crab rangoon and indulging in her great passion, movie theater popcorn, Eleanor wasn't much in the mood for an enormous portion of chewy chicken, but she pulled a deft manouvre with the leftovers that I am going to shamelessly steal in the future: She secreted the contained in her empty popcorn bag on the way out. That Eleanor Roosevelt, she is a crafty lady!
About the movie itself, I'll say two things. There's a certain disease that strikes directors when they get famous enough to tell other people to shove it when it comes to editing their films. The primary symptom is that they suddenly forget how good movies end. Once afflicted, they drag the audience from a perfectly acceptable end point full of symbolic finality but with a stretching crosshatching of tension to a point ten minutes later than that one, where they've squandered potential. It's not quite as bad as the end of
Lord of The Rings
, but it does lead to a certain amount of eye-rolling in an otherwise well-crafted film.
Michael Mann does so love his close-ups of faces that fill the screen to grave fecundity. This works well for capturing the flickering, fleeting emotions on Johnny Depp's face and makes Christian Bale look like a delicately emoting Skeletor. At its best, the movie captures lovely plays of light and shadow: a Ford's headlights burrowing through the trees; murmuring rooms full of telephones, wires and switches for both the FBI and the Mafia. His stretched, dreamlike pacing works well with the half-human, half-legend characters he's blown up to Easter Island proportions on screen.
Al Capone, almost conspicuously never mentioned in
Public Enemies
, was already in Alcatraz in 1934. Before Scarface went up the river for tax evasion, he openly operated the most famous Depression era soup kitchen in the country, a kind of reverse-sneak, using food as a distraction from his other activities. One of the first things I found (thanks to an interested friend) in my research into John Dillinger was his favorite pie recipe - coconut, just like the sweet, impossibly fluffy roll that was my only concession to the bakery case at Wei Hong. All bootleggers are sneaks. Next week: Are all sneaks bootleggers?
Dara Strickland is a leading expert on sneaking food and drink into the movies. She reports on her exploits for Gut Check (from an undisclosed location) every Monday.