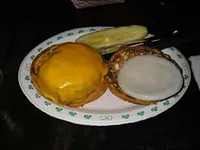 Good things come to those who wait. Usually. This week, you got the oft-delayed
Battle of the Burgers
, with a flawed O'Connell's Pub burger still managing to defeat the Seamus McDaniel's entry. (Don't forget to suggest a battle for
the next Fight Club Sandwich
!)
What else happened this week?
The Dive Bomber considered Irish -- or "Irish" -- bars.

Java Enabled went on a family vacation. Thankfully, there was good coffee.

We took a photo tour of the new restaurant Eclipse.

I tried Jim Beam's new Red Stag bourbon.

The Noble Writ urged you to try a different grape.

The Sneak stumbled.

Throwback of the House tossed a salad. (Chuckle.)

That's it for this week. Next week, an unlikely spot for really good pizza.
Have a great weekend. Eat something good.