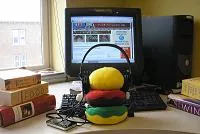 Iron Stef
: What's Stef having for dinner?
Taco dip.
Off the Menu
: Joe Bonwich has news of a new
hot-dog joint
in the Central West End.
Feast
: George Mahe shares some recent memorable
dishes
at local restaurants.
Becky and the Beanstock
: A recipe for brownies made with...
black beans
.
A Veggie Venture
: Alanna has a recipe for "stacked"
ratatouille
.
Do you know a St. Louis food blog we should read? Do you write one yourself? Drop us a line.