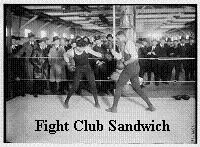 Finally, after a couple of delays, we're ready for the first edition of Fight Club Sandwich, the Battle of the Burgers, with the contestants that you chose:
O'Connell's Pub
vs.
Seamus McDaniel's
. I've eaten both burgers -- not for the first time, mind you, though I hadn't visited either restaurant in a while -- considered many important factors and am ready to declare a champion. First, the contenders:
O'Connell's Pub
I ordered both burgers medium-rare, with cheese but without bacon or any other "special" toppings. As you can see in the photo above, the O'Connell's burger came with its slice of cheese coating the patty as smoothly and as tightly as a shower cap.
This burger presupposes -- or maybe demands -- a certain aesthetic: It comes with only a thick slice of raw onion, though you are free to add ketchup, mustard, etc. I skipped the condiments. I didn't use the onion, either, since it would negate a fair comparison with Seamus McDaniel's effort.
The burger weighs nine ounces, according to the menu, but thanks to its shape -- thicker in the middle than at the edges -- it looks a lot heavier. The charbroiling gives it a very strong "grilled" flavor and adds a lovely textural contrast to the juicy interior, though this particular burger ended up being a tad closer to medium than I like. Even so, the flavor was simple and pure and, at $5.75, a damn good value.
Bonus points for the toasted bun. Points deducted for the paper plate. A wash.
Its opponent, on the following page...
Seamus Mc Daniel's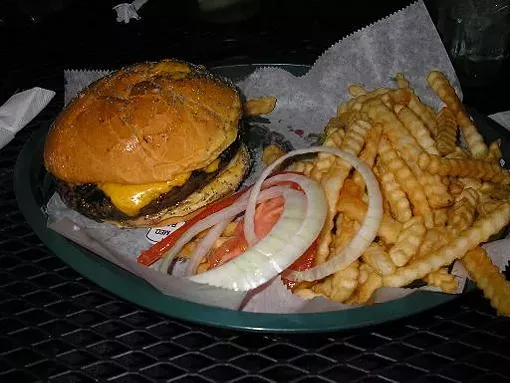 The Seamus McDaniel's burger has a uniform thickness. Generally, this is a drawback, but the kitchen definitely understood what medium-rare entails: The interior of this burger was so red, I could still hear the echo of its final moo.
That said, the burger was heavy on the salt, giving its flavor a little more of an edge (for lack of a better word) than I normally prefer. The weight is ten ounces, according to the menu, but -- in a reverse of O'Connell's -- the patty didn't seem so enormous. The cheese had melted to a softer consistency than O'Connell's, giving the overall burger a better mouthfeel.
The Seamus McDaniel's cheeseburger was $7.50, which is more than O'Connell's, but it also includes fries.
The verdict, after one last jump...
The Verdict
This was a tougher call than I expected: O'Connell's might have won in a rout had the final temperature been a little lower...while Seamus McDaniels' blew its chance with a heavy-handed approach to the salt. In the end, I'm going with
O'Connell's
for the basic reason that a great burger is, first and foremost, about the flavor of the meat, and O'Connell's showed that more clearly.