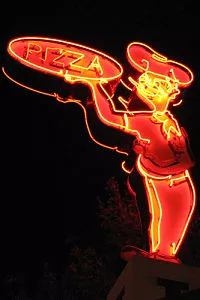 flickr.com/photos/neatocoolville
Dear Fans,
So by now, you've had a chance to take a look around our fair city. Perhaps you've traveled to the top of the Arch for the panoramic view or maybe you've just closely examined the few blocks around the Convention Center while you waited to get into
Fan Fest
. You've experienced the famous Midwestern humidity (and perhaps now understand why we like to say, "It's not the heat, it's the humidity") and the thrill of blackened skies that hearken a possible tornado.
But there's no doubt that you've had a chance to sample some of our cuisine. Maybe you've visited some of
Ian's favorite restaurants
. Or maybe you've decided to
eat like a local
: T-ravs,
Imo's
and
Ted Drewes
all the way, baby!
Perhaps some of our unique native foods have captured your fancy. You wish you could eat them whenever you get a hankering without having to come back here in the middle of summer. (And believe me, we understand. Most of us spend the spring and early summer scheming to get the hell out of here come July and August.)
Well guess what? You can!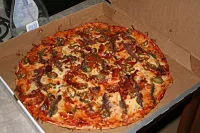 flickr.com/photos/kimblahg
The anchovies just compound the foulness.
Even those of us who dislike Imo's Pizza must admit that there is nothing like it anywhere in the entire country. Yes, some pizzerias in Chicago cut their pies into squares and yes, you might be able to achieve the effect of an Imo's crust with a piece of matzo, but nowhere else can you get the complete package of square slices, cracker crust
and
Provel.
Fortunately our friends at Imo's understand the power of nostalgia. For a mere $43 (including shipping), they will
prepare a pizza especially for you, freeze it and send it out via FedEx to arrive in two days
. No, this will not satisfy an immediate craving, but the frozen pizzas keep for three months, so you can keep an extra on hand at all times.
Imo's also has mail-order toasted ravioli, salad dressing and ingredients (including Provel and crust!) for you to make your own St. Louis-style pizza at home.
flickr.com/photos/swampgoddess
Ted Drewes: the Platonic ideal
Ted Drewes ships
, too, but it's gonna cost you: They charge $90 per shipment (FedEx overnight), plus the cost of your custard or concrete. (Not included: long line or cheerful employee to turn concrete over to show how thick it is. Though we've also seen both these things at Dairy Queens across our fair nation.)
The St. Paul sandwich, less well-known and far more mysterious in origin, appears to be unduplicated anywhere (though a poster on the website Chowhound
suggests the chow mein sandwich
as a worthy substitute -- if you happen to find yourself in Rhode Island). Online recipes seem to be equally rare, though we did manage to dig up
this one
.
We hope this will satisfy your longing for St. Louis once you return home. Or you could, as city officials and the tourism board fervently hope, come back and visit us again soon!
XOXO,
Your friends at Gut Check