Those of us who have visited states such as Texas or California know the joy and wonder that is a taco truck. To the uninitiated, these are nomadic vehicles that roam around selling delicious Mexican food -- such as tacos. (Other members of the same portable-food family include the falafel truck, a
Korean BBQ taco truck
and a cupcake van.)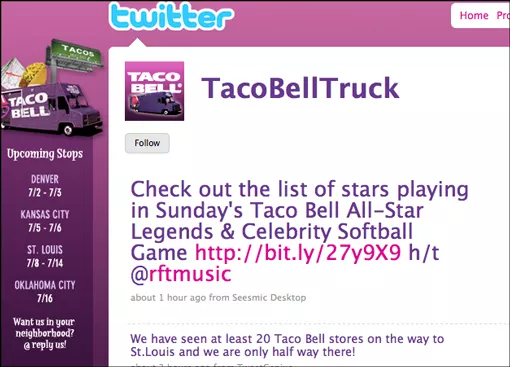 Today, I was slightly perturbed (but also intrigued) to find out that the
Taco Bell Truck
is taking up residency in St. Louis for All-Star week. The premise is simple, as its Twitter bio says: "
We drive around the country, handing out free Taco Bell tacos to people. What's not to like?" Well, there's the grossness factor of its food, mainly (and I speak of this as someone who devoured many, many tacos when my metabolism was a lot higher -- i.e., high school, when there was nothing to do after 9 p.m. besides hit the Border).
But the 'Bell
did link to our reporting of the celebrity line-up at the softball game
it's sponsoring this Sunday, so we'll cut 'em some slack. And propose something light: If you spot the Taco Bell Truck around town, feel free to snap a photo and
email
or
Twitter
us. (I'll handle this while Ian is on vacation.) Bonus points if you happen to catch the truck on Cherokee Street.
View Larger Map
Hipster points/more bonus points you catch the truck at a
combination Taco Bell and Pizza Hut
.
You can follow the truck's progress via Twitter
.