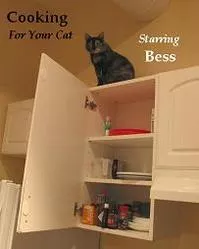 RFT
staff writer Aimee Levitt and her cat, Bess, continue their culinary adventure.


One of the hazards of my job is forced immersion -- some might say obsession -- in a particular subject for months at time.
Pick-up artists
,
education
,
death
,
comic books
,
vampires
...the books and articles pile up. (Sometimes I wonder if Homeland Security has a file based on my borrowings from the University City Public Library and, if so, what conclusions they have drawn about me.)
Bess is usually the primary beneficiary of my newfound knowledge. She listens patiently as I ramble on, sometimes reads over my shoulder, sometimes naps, on one occasion tried to eat the results of my labors (the discards, actually, of the
balloon animal phase
), but never have I forced her to participate in my temporary idiocy.
Until now.
Over the past couple of months, I have been obsessing about food. Specifically, healthy and sustainable food. (Normally I obsess about baked goods and innovative cat food.) I was working on
an article about Match
, a
locally-made meat substitute
, which occasioned finally biting the bullet and reading
Michael Pollan
. Bess napped.
Like me, Bess is a devout carnivore. Unlike me, she does not feel guilty about it. She doesn't feel guilty about much, actually, but especially not about slaughterhouses and factory farms. I can't decide if this is due to basic ignorance or a tacit acceptance that nature is red in tooth and claw. Or maybe she takes refuge in utter passivity. To paraphrase Jane Austen, I have the power of choice. She has only the power of refusal.
Two years ago, Bess became -- albeit passively -- a committed locavore. Almost as soon as we crossed the river and got over the excitement of seeing the Arch, the
Purina
building was upon us.
"Look Bess!" I cried, pointing manically toward the driver's side window. "It's your food!"
Bess raised her head, blinked, yawned and went back to sleep.
So OK, she doesn't display the same enthusiasm as shoppers at the farmers' market, but whatever. Maybe she just needed to sample another local product.
I wrote to Freddie Holland, Match's executive chef, also known as the Master of Match, and asked what he thought Bess should eat.
He wrote back: "If I were your cat, I would want a traditional Tuna Helper made with Match crab and yes lord, peas. Spread the Match crab out on an oiled sheet pan and bake it for about 15-20 Min. @ 350 degrees."
Bess, I should mention, loves crab. (It's a lapse in her locavoritarianism.) If any should find its way into her bowl, it will disappear within seconds.
I obediently followed Freddie's instructions.
To my human palate, the results tasted kind of salty, kind of soy-ish, with a slight tinge of the sea. Cats, I have learned, respond best to smells. This did not have a very strong odor. I had to call Bess over to her bowl to give it a try. Twice.
She did give it a couple of nibbles. You will have to take my word on this because as soon as she heard me grab my camera (with her super-sensitive cat ears; I swear, all cats are like Superman when he was still doing
skyscraper-hops
, before he learned to fly), she darted away from the bowl and refused to go back, despite my best cajoling. I left it out overnight. In the morning, I caught her eating Purina for breakfast.
From all this, I can conclude two things:
1) Cats cannot be guilted into abandoning their carnivorism. Even though Purina is just as artificial as Match, it still contains remnants of what used to be chickens and shrimp and salmon. Not mouse, though.
2) My cat does not like my cooking.
But could it be that I am not feeding Bess the food she was "meant" to eat, just like how the solution to the omnivore's dilemma is getting back to the food we, humans, were "meant" to eat? Or has that beautiful ideal been ruined by 5,000 of coexistence (and, some would argue, codependence)?
So just what
was
Bess meant to eat?
Oh, damn you Michael Pollan. And Match. The healthy eating obsession seems doomed to continue as we investigate further...