Fernando de Sousa, Wikimedia Commons
In a previous blog post, I talked about
the passionate side of sneaking
-- particularly for those who seek a Sneak. But you've doubtless noticed that, while one of the things dearest to me in this life is the B-movie laboratory St. Elmo's fire that flares when I unintentionally twine my salt-studded fingers against those of The Doctor, my mysterious long-time gentleman caller, as we both reach for the wasabi peas in my coat pocket, he's far from my only sneaking companion. This is not because my pirogi-smuggling pockets are promiscuous but rather because I have swiftly and surely converted every last one of my friends to my sneaky ways.
I actually had to do some research on that last claim. While I am utterly unabashed in making up studies and statistics conducted by and about fictional people, my actual friends are a stringently corrective lot. While they're quite aware that the cocoon of gossamer fabrications and gasoline-colored exaggerations I spin around my true thoughts and intentions is the cornerstone of their love for me, they will yell at me if I misrepresent them.
My research consisted of two conversations, the first with a grown man I still call "Jerkface" because he's such a good friend that he's like the little brother I never wanted and furthermore couldn't get rid of by mailing all of his stuff to Manhattan. As we've aged, my insults have gotten only slightly more sophisticated and continental.
Sneak: Hey, do we have any friends who would NOT sneak food into a movie?

Giorcfaccio (long pause): I doubt M, who you dated before The Doctor, would do so.

Sneak: M? Oh, god, that was like a pillar of our relationship.

Giorcfaccio: Really? He struck me as a non-sneaker.

Sneak: And he put up with me six months at my craziest? Oh no. The joy of dating a really tall guy is that his coat has really deep pockets. (He was at least 6'4" and lanky.)

Giorcfaccio: It all makes more sense now.


Jerkface has been my friend for many years, and was even my roommate for a time. If sneaking is communicable, he carries sufficient viral load to qualify as a CDC field office. I needed a control group too, so I also talked to law-abiding Jim, who got duped into
slaving away in my well-appointed kitchen
last week.
Sneak: Hey, Altar Boy Jim. If we went to a movie and there was, say, sushi in my bag, you'd eat it, right? Even though it is clearly against the rules to have sushi in the movie?

Jim: Does the theater also sell sushi?

Sneak: No. God, I wish. Maybe one day when I open up a movie theater.

Jim: I'm not sure if I have time this weekend, but yes, I would eat sushi. When are you going?

Sneak: It was more of a theoretical question, actually.

Jim (in mortal disappointment): Oh.

Notice how Jim, who has had approximately six months exposure to me and, more importantly, has never been to a movie theater with me, aligns his questions with the tenets of classical sneaking: First, is it ethical? Second, when do we eat?
Notice also that it never occurs to him that I am not deadly serious and at all times am on the verge of sneaking food into the movies. How can you cultivate this kind of unswerving ideological conviction in your own friends? My favored method is one cribbed from churches operating on college campuses: winning conversions through low-fi movie night.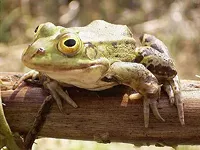 Harmen Piekema, Wikimedia Commons
Feature this: The path to hell may be paved with good intentions, but the one to a pack of sneaky friends is dependent on incremental changes in setting. Ever heard the (
debunked
) urban legend about boiling a frog in water by raising the temperature so gradually that he doesn't notice until it's too late to escape? This is the same concept except it actually works and you don't end up with a net gain of theoretical boiled-frog soup.
Dinner and then watching a movie in my house

Eating while sitting on the couch and watching a movie

Eating food I alone have brought for you in a movie in a theater

Being responsible for sneaking in some shared food at the movies

Full-fledged sneakery

The second step is really crucial. You have to use it as the time to really ingrain the idea that certain foods are natural and indispensable movie watching accessories. The more fun you can make this, the better. My favored method is movie/food theme nights. A few examples:
Bollywood Night
: Get some tiffin (complete box dinners) from your favorite cheap Indian place and rent something authentically Bollywood.
Monsoon Wedding
doesn't count, and anybody who can eat and watch the first half hour of
Slumdog Millionaire
at the same time probably shouldn't be your friend. Look for something classic, like the amazing '70s extravaganza
Cholay
or something more recent and completely off-the-rails, like last year's
Gahjini
, which is -- I shit you not --
Memento
reinterpreted as a high-action psychological thriller/romantic-comedy musical. This is my favorite gateway type of movie because Bollywood movies almost always clock in with three-hour-plus running times. You have to eat during something that long.
Hong Kong Night
: Get good take-out to eat straight from the carton and pick two playful, complementary films, maybe a goofy high-energy comedy like
Shaolin Soccer
and something from Jackie Chan's career before he ever heard of Chris Tucker. If you want your wire-fu with a patina of aged bronze respectability, Chow Yun-Fat has apparently made that his life's ambition of late, but you probably don't want to double-up on the longer epics unless you're pulling a late night. Hiding egg rolls on your person and requiring your guest to find them can not only train them in the ways of the Sneak but is a good strategy for moving things forward on a third date.
Swords and Sandals, High-Brow
:
Ben Hur
and an attractive fruit and cheese plate. Good for luring friends who like to picnic into the air-conditioned bosom of movie sneaking.
Swords and Sandals, Low-Brow
:
Maciste
and cheesesteaks.
Southern Fried Night
:
O Brother, Where Art Thou?
if you like your irony pre-assembled by the Coen Brothers,
Gone With the Wind
if you prefer to make your own. What you should definitely make on your own is some cornbread. I'm originally a Southern belle, and have received outrageous favors from born-Midwesterners in exchange for dinners of what I still think of as po' food: shrimp and grits, stewed tomatoes and okra, beer-boiled collards. Cold beer is a necessity, sweet tea is a cavity-whittling bonus.
I can't possibly be the only sneak in greater St. Louis who uses seemingly-innocent homebound movie nights to convert my friends. Any other sneaks out there have good ideas? Please feel free to share them with the rubberneckers and budding proto-sneaks in the comments.
Dara Strickland is a leading expert on sneaking food and drink into the movies. She reports on her exploits for Gut Check (from an undisclosed location) every Monday.