Todd Ehlers, Wikimedia Commons
Ah, summer food. It's the only thing I like about summer. I'd gladly live in a climate that never rose above 60 degrees if it weren't for giving up local produce, cookouts and a good old-fashioned summer cheese bake.
What? You don't have the summer tradition of cranking the oven to 350 degrees, boiling some water and suffering a clogged artery-related heat stroke? In 1958, the experts at Good Housekeeping thought that sounded like a fine idea, so they gave us a recipe for Summer Cheese Bake in
Egg and Cheese Spaghetti and Rice Dishes
.
I'm really starting to question the validity of the
Good Housekeeping Seal
because these people don't have good sense. For this "summer" treat, heat the oven and boil some macaroni. Blot yourself with some ice cubes wrapped in a cloth to prevent fainting.
Combine macaroni, cream of chicken soup, canned green beans and a little milk in a baking dish. Top with American cheese slices and tomatoes. Don't use your garden-fresh tomatoes for this. This recipe screams for grocery store styro-matoes.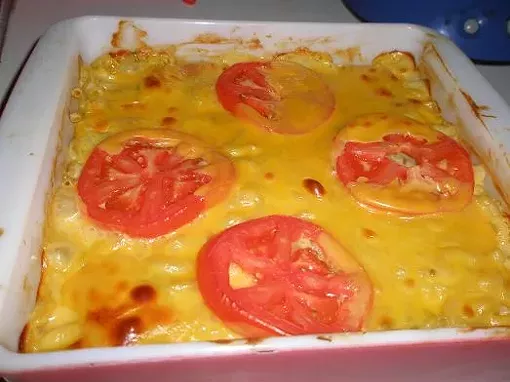 Bake the mess for half an hour. Eat. Enter coma that will end in time for your Thanksgiving coma.
This is a great summer dish if you live near a fjord.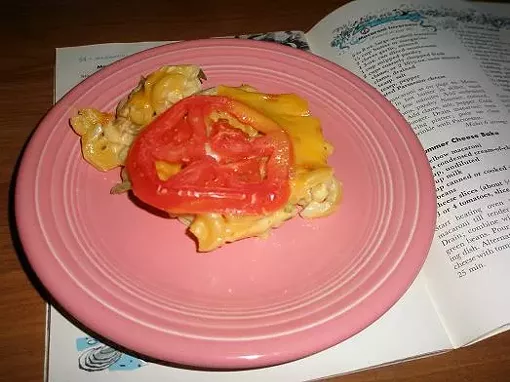 On the night I made this, I was feeling a little blue. The carb-loaded pile of comforting hot goo and the childhood nostalgia of melted faux cheese beckoned. I downed two servings, the warmth and heaviness soothing my depression, inducing a ten-hour summer slumber.
For that, Summer Cheese Bake has earned the Throwback Seal. I guarantee that the dish will raise your cooling bill and your LDL cholesterol. It will have the same effect of 40 milligrams of Prozac and a milligram of Klonopin, washed down with a sangria slushy, without requiring that pesky doctor's prescription.
Robin Wheeler writes the blog Poppy Mom. After years of making and eating fancy food, Robin is sick of it all. She's returning to the basics: recipes that haven't surfaced in three decades. She reports on the results for Gut Check every Tuesday.