Todd Ehlers, Wikimedia Commons
My friend Maggie sent me
a blog post by Spanno
regarding "vintage hot dog horrors." Ha ha. Funny.
But...wait. It's just pictures of shitty old recipes. Sure, that crown roast made of hot dogs looks hilarious, but did Spanno make and eat it? No. At least I took the effort to make
my Treet crown roast
and take a bite.
Okay, a nibble.
Honestly, my husband ate most of the meat product, I ate the strawberries that didn't have Treet goo on them, and the rest went into the trash. But that's not the point. The point is, it's fun to laugh at bad old recipes, but it takes an iron stomach to make them. So I'm challenging Spanno to a throwdown, wiener-style.
I turned to my 1963 edition of
Better Homes and Gardens Meals in Minutes
, the same bastard that gave us
Friday Franks
, the only Throwback recipe that has made me physically ill. This time, it's Circle Pups, which sounds like something dirty that might happen at a fraternity initiation.
Take some wieners and cut slits in them every half-inch, being careful not to cut the wiener all the way through. Broil. As the meat swells, the cuts will make it curve. The book claims that a long, thin wiener can form a full circle, but I'm skeptical. Instead, I opted for the pair of "chubby, dinner-sized franks" suggested by the book.
Once the wieners are curly, place them in a circle on rye bread. Fill with canned sauerkraut seasoned with sage. Garnish with mustard. And, most importantly, eat.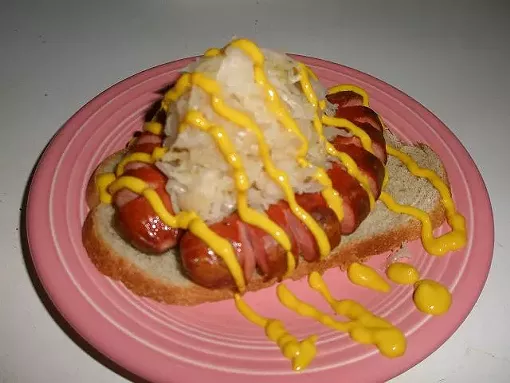 Presentation? Well, it's no meat tiara, but I like the simplicity. Plus, I used a squeeze bottle for the mustard, which makes it classy.
The taste? Not bad, depending on the quality of your ingredients. I opted for mediocre bread, decent wieners, and really cheap store-brand canned kraut, giving a middle-of-the-road wiener circle experience.
How will my competitor fare? Does he even know he's competing? We shall see.
Robin Wheeler writes for the blog Poppy Mom. After years of making and eating fancy food, Robin is sick of it all. She's returning to the basics: recipes that haven't surfaced in three decades. She reports on the results for Gut Check every Tuesday.