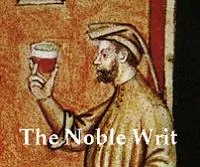 I'm not so crazy about Champagne. By Champagne, I don't mean sparkling wine in general or a $6 bottle of Cook's from California. I mean proper
Champagne
, the great sparkling wine from the Champagne region of France.
During production, much Champagne is aged in its bottle with yeast for several years prior to release. This extended interaction with yeast gives Champagne a range of flavors that many people find compelling and record positively as toasty, yeasty, nutty or freshly-baked bread. But these flavors and aromas really hit me the wrong way when they become significant components, so my practical side doesn't see the point in spending a premium for Champagne.
Luckily, there is a great wide world of other sparkling wines well worth your attention. Today, we'll explore one of my favorites: the Spanish sparkling wine, Cava.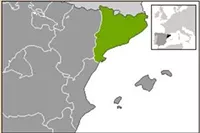 User "Martorell," Wikimedia Commons
Catalonia is highlighed in green (main) and black (inset).
The Cava industry is centered in the Catalonian region called Penedès, not far from the city of Barcelona on the Mediterranean coast. Its production roughly follows the same method as Champagne, though the required period of aging before release is shorter, and not much Cava is stored too far beyond the minimum. The wine undergoes an initial fermentation and then is blended and bottled with yeast and some additional sugar. The CO2 produced by this second fermentation is trapped inside the bottle and carbonates the wine. The yeast is then expelled; the bottle is topped up with a sugar solution and reclosed.
The amount of sugar in this last topping-up determines the sweetness of the final wine. In some cases, this final addition contains no sugar at all -- though this is very rare in the case of Cava. In order of sweetest to driest, Cava is labeled: Dulce; Semi-seco; Seco; Extra Seco; Brut; Extra Brut. For drinking on its own, I stick with Brut or Extra Brut Cava, as the others are too sweet for my palate, though they might make for a nice match with a light dessert.
While there have been some plantings of French sparkling wine grapes like chardonnay and pinot noir in Cava regions, most Cava still comes from the local grapes macabeo, parellada, and xarel-lo. So, if you're
a grape ticker
, grabbing a bottle of Cava is a quick way to add three to your tally that you're unlikely to encounter elsewhere.
For many years the cava selection in the United States was dominated by two large producers: Codorníu and Freixenet. While these producers are capable of turning out reliable wines, most of what they made available here were their sweeter bottlings (which do work well for
Mimosas
-- another place my cheap self won't let me use Champagne). However, more and more small producers are becoming available and many, like today's example, are real winners.
This week, I'm trying non-vitnage
Avinyó
Cava Brut (60% macabeo, 25% xarel-lo, 15% parellada). Pale gold. Fine, lively bubbles. Crisp honeydew, citrus and chalk. Good fruit on the palate, but still brisk. Just a touch of toast to round out the lingering finish. A very nice Cava. (
33 Wine Shop & Tasting Bar
, $17)
Dave Nelson is the author of the blog Beer, Wine and Whisky. He writes about wine for Gut Check every Tuesday.