Robin Wheeler writes for the blog Poppy Mom. She also has a strange attraction to drinking establishments with jars of pickled -- or possibly fossilized -- eggs. She reports on these dives for Gut Check every Friday.


My husband, Brian, hates it when I refer to my dive bombing duties as "work." It makes him sad that he doesn't get to drink beer at his job. I've honored his request to refer to my bombings not as work, but as "research."
Since Brian works a real job and stays home with our daughter while I'm researching, he always misses the fun. Not this week. We shipped the kid to her granny's house, and Brian finally got to see my research in action. And what better way to do it than by crashing a party?
We didn't realize Liz was having her retirement party when we arrived at
Liz's Place
on Saturday night. Not that this stopped us. It just made for a rather dull visit, since everyone ignored us, aside from the occasional look that I translated to mean, "Who the hell are you, and why are you here?"
Needless to say, we didn't feel right partaking in the free buffet.
We spent an hour in the crowded bar, hunkered at our table in the corner near the dead shuffleboard table. Brian taught me how to play, since shuffleboard would be a skill well-suited to my research. I suck at games, but he explained it well: Shove the pucks down the lane and try to knock off the other guy's pucks.
Aside from the shuffleboard instructions and his companionship, Brian's not a career asset. I have a feeling that it wasn't just the party that kept people from mingling with us.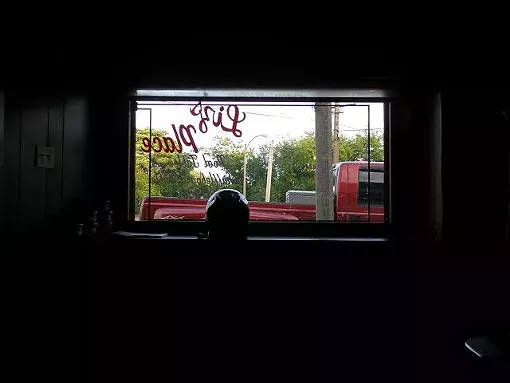 What's the first question I'm asked every week when I show up at a bar by myself or with girlfriends? "Hey. Are ya married?" Even though I always tell the truth, that doesn't stop me from making interesting new acquaintances. Show up with the actual husband, though, and no one wants to be my friend.
Happy retirement, Liz. I'll be back someday, when I'm not crashing the party. And I'll leave the dude at home.