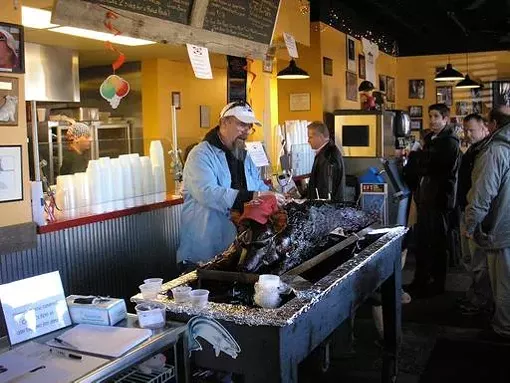 Ian Froeb
Mike Emerson serving whole-hog barbecue at Pappy's Smokehouse in February.
Pappy's Smokehouse
(
3106 Olive Street
;
Web site
) owner Mike Emerson posted fantastic news on the
STL Bites forum
: His Midtown barbecue joint has been invited to participate in this year's
Big Apple Barbecue Block Party
in New York City. The festival will be held Saturday, June 13, and Sunday, June 14.
"Our little garage band is opening for the Rolling Stones," Emerson joked when I called him this morning. Typically self-effacing, Emerson envisioned his team as the Beverly Hillbillies, driving through New York City with three pickup trucks and three smokers.
"They invited me last year," says Emerson. "I don't know how [organizer, restaurateur and St. Louis native] Danny Meyer found out about us. We just hoped that they would call again."
Festival officials have told Emerson to be prepared to serve 3,000 people each day. What will Emerson and Skip Steele be feeding them?
"We felt obligated to do a St. Louis-style rib. Which is not what we're doing [at the restaurant]." The decision, Emerson explains, was made to forestall the inevitable questions: "You're from St. Louis, and you're not doing St. Louis-cut ribs?"
The invite is the latest in a long list of achievements for Pappy's Smokehouse, which celebrated its first birthday in February. Among these are
an appearance on the Travel Channel show Man v. Food
and the
Riverfront Times
awards last year for
Best New Restaurant
and
Best Barbecue
.
Adds Emerson: "If someone would have asked me what I expected? Not this."