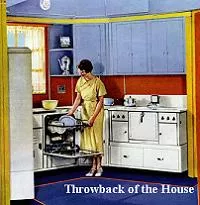 Todd Ehlers, Wikimedia Commons
Robin Wheeler writes for the blog Poppy Mom. After years of making and eating fancy food, Robin is sick of it all. She's returning to the basics: recipes that haven't surfaced in three decades. She reports on the results for Gut Check every Tuesday.
This week, I looked at the May issue of
Martha Stewart Living
and had myself a little giggle fit over
elegant gelatin recipes
. This meant I'd be making something from my 1977 copy of
Amazing Magical Jell-O Desserts
for Throwback.
Before I could bust out my molds, I got the news that
one of my favorite octogenarians
had passed away. My mood for magical Jell-O faded, replaced by something more substantial.
Flo, my departed friend, was a devoted dieter -- specifically,
Weight Watchers
in the days before the points system and
Richard Simmons
. She and her husband, Rudy, followed diets created over 30 years ago. They would cheat a little during holiday gatherings with my family, where everything contains butter and cream cheese, but Flo always contributed a sensible dessert.
I don't know where Flo got this recipe, but it wouldn't surprise me if it came from a cookbook like the ones that litter my house. I know the recipe by heart, even though I've never seen it. Hell, I never ate it beyond a cursory few bites because Flo was just too darn nice to insult by ignoring her dish.
But today, I had to make it and share it. Take a box of sugar-free orange Jell-O. Make according to the instructions, substituting sugar-free Tang for the cold water. Chill in a mold for 90 minutes. Add a cup of shredded carrots. Continue chilling until it's time to delicately show the Wheeler family that maybe they should step away from the lard-based pie crusts.
Yes, it tastes like melange of artificial sweetners. I can't help but wonder if those evil little molecules might have been responsible for the cancer that took Flo. Today, though, it tastes like Flo's tinkling little laugh, the sassy way she'd swat at Rudy when he'd joke and her delicate little hugs at the end of another Christmas celebration.
If there's
Deal-a-Meal
in the afterlife, I hope Flo's hand is filled with the fried chicken, beer and lemon meringue pies she denied herself in life.