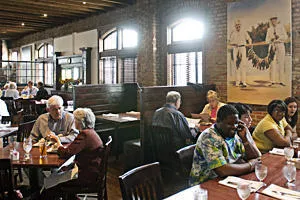 Jennifer Silverberg
Inside Revival
Breaking news from our friends at
St. Louis Magazine
and
Sauce
. First, at
St. Louis Magazine
's Feast blog,
George Mahe reports
that
Revival
(
3800 Chouteau Avenue
;
Web site
) will close after service this Friday.
The news is mixed, however: Mahe reports that one of the current partners, Tom Powers, has assembled a new ownership group that will reopen the restaurant with a new name and a menu from St. Louis chef-at-large Mike Johnson within the next two weeks.
I liked Revival very much when
I reviewed it last year
; also last year, the
RFT
awarded it
Best Comfort Food
.
Meanwhile,
Sauce reports
that Benton Park's
McLozzi Deli
(
2870 McNair Avenue
;
Web site
) has closed. This was one of my favorite spots in town to pick up lunch for my wife and me, and the
RFT
awarded it
Best Delicatessan
in 2007 and
Best Sandwiches
last year. On my last visit, only a couple of weeks ago, I did note that the restaurant had cut its hours. Still, this sucks.