Todd Ehlers, Wikimedia Commons
Robin Wheeler writes for the blog Poppy Mom. After years of making and eating fancy food, Robin is sick of it all. She's returning to the basics: recipes that haven't surfaced in three decades. She reports on the results for Gut Check every Tuesday.
Long ago, I found two treasures at a used bookstore: a 1932 reprint of
the Fanny Farmer cookbook
and an old recipe binder. It's filled with handwritten recipes and magazine clippings from the 1950s through the early 1980s. I don't look at this book much, because it makes me a little sad. I imagine the woman who so carefully put together this piece of work, and I wonder why her bratty heirs allowed it wind up in heirloom no man's land.
This week, I pulled the binder from its special spot on my cookbook shelf, sure that I wouldn't find a Throwback-worthy recipe.
This binder's full of classics -- how to prepare fresh vegetables, enough awesome cakes to make a fortune at a cake walk and instructions on making every kind of crown roast imaginable.
"Hey, Sis? Do you remember your ninth birthday, when Mom lost her shit and made a crown roast out of
Treet
?"
And now we know why the kids ditched the binder.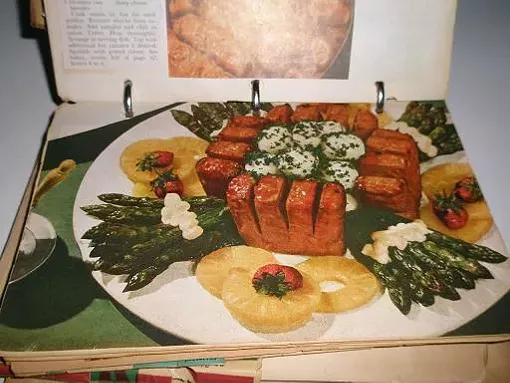 The recipe's simply labeled "
crown roast
." Take four cans of "luncheon meat," slice them in half and then make four cuts three-quarters of the way vertically through each loaf. Because canned meat isn't gelatinous enough, coat with orange marmalade and bake.
Arrange canned asparagus, pineapple and potatoes on a platter. Stand the meat towers on end in a physics-defying design and give it to the ungrateful little shits.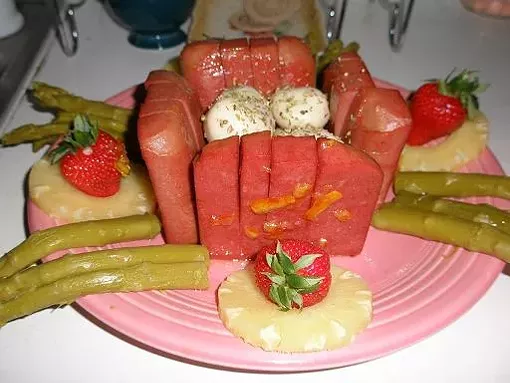 This crown roast tells your family, "I had ten minutes and five dollars to waste on you people. Eat up." It tastes like...hell, does it even matter? It's Treet covered with orange marmalade and baked. It tastes exactly like you think it would taste.
My husband suggested that maybe the binder's creator was a kindred spirit of mine, saving the crown roast recipe because it was such a ridiculous idea that it gave her giggle fits every time she flipped past it on her way to the crown roast of lamb instructions. For the sake of that woman's progeny, I hope he's right.