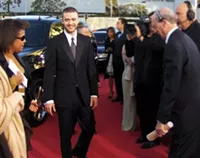 Peter Dutton, Wikimedia Commons
A couple of months ago Gut Check reported that pop icon
Justin Timberlake is releasing his own tequila
,
901
. (The name is the area code for Memphis, his hometown.) Earlier today, Paul from the
Wine and Cheese Place
left a comment on that post to announce that the store has received a shipment of 901. According to the Wine and Cheese Place's Web site, 901 should be available at all three locations and Provisions today.
The Web site also reveals that a)
KMOV
is stopping by the Forsyth Avenue location this afternoon to report on the release and -- more importantly -- b) the store has opened a bottle for sampling.