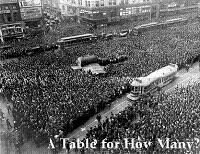 Stefani Pollack is the author of the food blogs Cupcake Project and Food Interviews. She is also a member of the St. Louis Dinner Club. She blogs about her large-group dining experiences twice a month for Gut Check.
Chopstix Asian Kitchen
8021 West Florrisant Avenue
, Jennings
314-383-6888

Is it a Chain?
Dinner Club tries to avoid chain restaurants. It's not a hard and fast rule -- we've been to a few large chains (Cheesecake Factory and Elephant Bar come to mind) -- but in general, we try to support locally-owned eateries. Several members questioned our choice of Chopstix. Since they had eaten at Chopstix in other cities, it must be a chain.
I, too, questioned whether Chopstix was locally-owned. I ate at a fantastic restaurant called Chopstix in Gainesville, Florida, and have also eaten at a Chopstix in Chicago. However, a Google search revealed that the restaurant in Gainesville was Chopstix Café, the one in Chicago was Chopstix Express and our St. Louis Chopstix is Chopstix Asian Kitchen. Chopstix Asian Kitchen states explicitly on its menu that it's a "second generation, family-owned business." Not only that, it also supports local farmers: "We are happy to support our local produce and meat farmers."
Eating In at a Carry-Out Restaurant
Chopstix is mainly set up as a carry-out restaurant. As we ate our meal, several groups came, ordered, grabbed their food and left. That being said, the staff had no problem accommodating our large party eating in such a small restaurant. Our group of ten plus a baby took up most of the tables, but there was still room for a few other patrons to sit and eat.
Since we'd made a reservation, our table was already set with bright, cheery plates when we arrived. Even though ordering was done at the counter and drinks were self-serve, the nicely set table made Chopstix feel more like a welcoming restaurant than fast food.

Paper, Plastic, or Wall
Chopstix presented us with three different types of menus to choose from (although they all had the same content): paper menus, laminated menus and a giant menu printed on the wall. The wall option was the least helpful of the three since the typeface was way too small.
The menu options were fairly self-explanatory, except for one point that our group (as well as a couple of other diners) had to ask about. Each dish comes either as a plate or an entrée, but nowhere on the menu does it describe the difference between the two. We wondered why that wasn't spelled out anywhere. It turned out that the entrées were simply larger portions.

Would You Like Your Spring Rolls Again?
Counter ordering is always an easy way to go with large groups. However, as no names or numbers were recorded, there was some confusion as dishes came out of the kitchen regarding who ordered what. Some dishes were brought out twice -- certainly a better option than dishes not being brought out at all!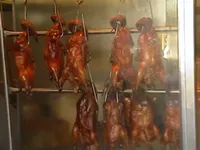 Quacking about Duck
In general, people enjoyed their food, although despite the menu's mention of local ingredients, they didn't find it to be much better than your average St. Louis Chinese restaurant.
If you're looking for something a little bit different and special, you might consider the duck ("slow-roasted, made fresh daily"). There were ducks hanging in a display case when we walked in, and the one member who decided to order duck was met with a heaping plate of particularly tasty meat.
The Verdict
With plates averaging around $6.50 and fast service, Chopstix is a good place to bring a group for a cheap, quick bite. Eating in worked well for us, but with nice spring and summer evenings finally here, you may simply choose take-out and have a picnic -- be sure to bring your chopsticks.