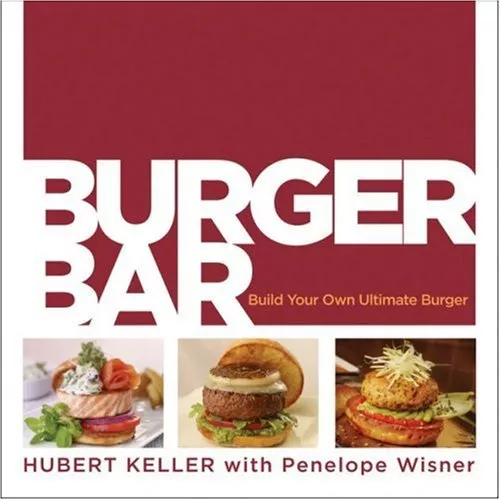 Now here's something you don't see every day: A nationally released cookbook by a celebrity chef with a direct St. Louis connection.
Burger Bar: Build Your Own Ultimate Burgers
is based on Hubert Keller's
Burger Bar
, which has locations at Lumière Place (
999 North 2nd Street
;
Web site
) as well as in Las Vegas and San Francisco. Keller and cookbook author Penelope Wisner collaborated on the cookbook. The publication date is May 4, but Amazon, at least, is shipping it now.
I received an advance copy of the cookbook, a relatively slim volume (168 pages) with large type and many color photos. I especially love the dedication: "To whomever hungers for the ultimate burger."
How many different ways are there to cook a burger, you ask? Well, Keller and Wisner offer recipes for beef burgers, of course, as well as bison, lamb, chicken, turkey and even ostrich burgers. There are also sections for vegetarian burgers, sides, sauces and desserts.
Though I haven't read closely enough to offer a review, per se, I can tell you that at least one recipe is nothing but filler. How does Hubert Keller make a root-beer float? He pours half a bottle of root beer into a glass, adds two scoops of vanilla ice cream and then pours in the rest of the root beer.
Did I mention that the cover price is $22.95?
One other thing I noticed: The recipe for Keller's famous "Fleur Burger," a patty made with American Kobe beef topped with seared foie gras and black truffles omits the foie gras.
Check out
my review of the Burger Bar
(including the "Rossini Burger," which is more or less the same as the "Fleur") from March of last year.