Zach Dyer is a writer living in Saint Louis. He did his thesis research on coffee farmers in Southern Mexico. Since then, he has visited coffee plantations in Costa Rica and Mexico as well as roasters and cafés across the U.S. He blogs about coffee for Gut Check every Wednesday.
Is coffee recession-proof?
Reading the bad news about Starbucks, you'd sure think it wasn't. But while some Starbucks locations have been forced to close their doors due to dropping sales and tightening purse strings, it might surprise you to know that many -- if not a majority of -- local coffee shops are weathering this recession well.
Over the last couple of weeks, I've spoken with several local roasters and café employees to learn why the neighborhood coffee shop doesn't need a bailout.
Coffee occupies a tenuous place in our everyday routines. Is that morning latte on the way to work something you should cut out? Or is it an everyday luxury that you can still allow yourself?
Most of those in the coffee-house business with whom I spoke told me the economy hasn't hurt coffee drinkers so badly that they're abandoning their morning ritual completely.
Verner Earls of
Chauvin Coffee Company
said most of the cafes to which Chauvin sells coffee are doing as well as they ever have -- some have even been reporting record sales. "People aren't going to give up the latte," claims Verner. "Bigger expenses will go first."
Another strength of the coffee house in these times: The coffee drinker is a creature of habit. You might consider an iPod or another luxury good a splurge, but the coffee drinker views that cup as an inseparable part of the daily ebb and flow of life. "A self-professed coffee snob like myself will only give up coffee when I have no money," admits Verner. "I'd give up gasoline before I'd give up coffee."
Some consumers are already making that choice at
Velocity Café and Cyclery
. Susan Gyorog opened her café in October of last year -- Ground Zero for the economic crisis. She said so far sales have been what she anticpated. She attributed part of her success to Velocity's niche in the cycling community, but also to its food options: "If we had to survive on lattes alone, we wouldn't make it."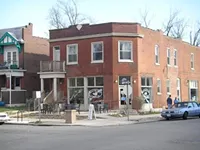 Ian Froeb
Hartford Coffee Company
Another place that's doing well during the recession is
Hartford Coffee Company
in Tower Grove South. Rita, a manager there, attributed the coffee house's continued success to its family-friendly atmosphere and stable prices. "The price of food has gone up, but we're keeping our prices the same," Rita says. "We don't think this is an appropriate time to rise prices."
What about fair-trade or organic coffee? When times are tight, do ethics go first? The answer I heard was a resounding no. All of the roasters with whom I spoke -- even those who have little fair-trade or organic coffee -- said that buyers with an ethical eye have continued to patronize the shops where they can support their causes. Susan Gyorog says, "We think it's important to support coffee farmers, and it's worth a little smaller margin."
(And let's be honest: If you're already paying $10 a pound for your coffee, what's another dollar or two to support a cause you believe in?)
Interestingly, of the cafés and roasters I questioned, those who dedicated a larger portion of their coffee to fair-trade, organic or another ethical certification reported that business has stayed the same, if not increased slightly. Looks like there are no fair weather fans of fair trade.
While fair-trade and organic sales might seem unaffected, there have been some changes in customers' buying habits. "Coffee's an affordable luxury," says Josh Ferguson of
Kaldi's Coffee Roasting Company
. Still, Josh echoes other café employees when he says he has seen a movement from espresso-based drinks (typically more expensive) toward drip coffee. Whole-bean sales are also up as customers look for ways to limit their expenses and still get their caffeine fix.
The affordability of the café has long been its strongest suit, regardless of the economy. It's a great spot to have a date, read a book, do work, get a bite to eat, meet friends new and old...and it's open to those of all ages. Do we have an equally versatile public space in the U.S. today?
Best of all, admission is only the cost of a cup of coffee -- as little as $1. So go on, treat yourself. Have another cup.