Todd Ehlers, Wikimedia Commons
Robin Wheeler writes for the blog Poppy Mom. After years of making and eating fancy food, Robin is sick of it all. She's returning to the basics: recipes that haven't surfaced in three decades. She reports on the results for Gut Check every Tuesday.
Solo
recognized that American cooks are ignorant to the rich history of the
poppy seed
. In its
Cake and Pastry Fillings Cookbook
, the authors write, "The use of the poppy seed as as a pastry filling or dessert item is rather unknown to the American housewife, yet the women of Central Europe have known many ways to use poppy seed in their family baking and cooking."
Next to this text, a recipe for traditional poppy-seed pudding and... a sketch of Paris'
Arc de Triomphe
.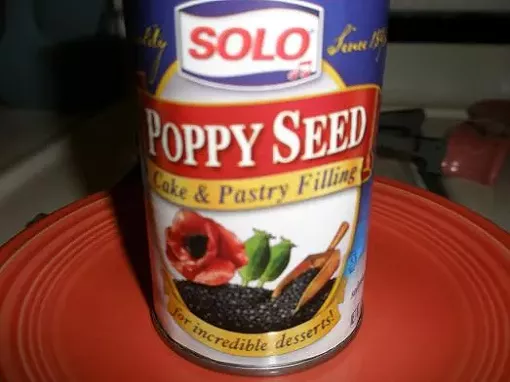 No need to mention that the recipe is a variation on
mákos guba
from Hungary. The poppy "kolacky" [sic] recipe? Housewives don't need to know that
originated in Slavic cultures
. Smack a drawing of the Eiffel Tower next to the kolaky and German poppy
stollen
recipes. They don't need to worry their pretty little bouffants over making Commie desserts.
Along with the recipes not attributed to their countries of origin, there's the customer-created Solo Poppy Custard Pie: "This will make a very unusual pie and one that will give you great pride in making."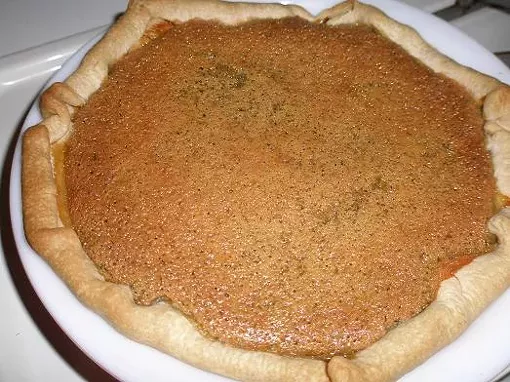 I've made the pie, and I can't say I'm feeling proud. In fact, I'm feeling rather ashamed. A 12.5-ounce can of Solo poppy seed and sugar filling, mixed with eggs, lemon zest, sugar, milk and frozen orange juice concentrate. Pour it into a pie shell, bake, top with meringue and brown.
The results are 100% American in that ham-fisted, "If a little's good, a lot will be awesome!" way. The overabundance of seeds destroys any velvety custard texture. The pie's nothing like the delicate stollen or flaky kolache with a hint of poppy seed nuttiness. It's more like a citrus-soaked seed pod.
The meringue softens the blow to the tooth enamel, but I'm sure my husband, daughter and I will be picking seeds from our teeth until we manage to take a blast from a fire hose to our faces.
But it's American, without a hint of socialism's balance to be found. God bless us all.