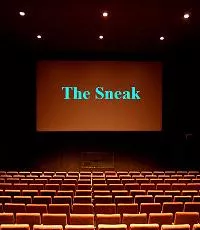 Fernando de Sousa, Wikimedia Commons
Dara Strickland is a leading expert on sneaking food and drink into the movies. She reports on her exploits for Gut Check (from an undisclosed location) every Monday.


Show:
The pageantry of early spring,
Missouri Botanical Garden
.
Food:
One liter of sangria, miniature kiwi fruits.
Difficulty:
Easy. MOBOT, unlike most movie theaters, is backpack-friendly. It also allows strollers, the sneak's equivalent of a buffet.
(To keep my skills sharp, I did ratchet up the difficulty level for myself by sneaking the food in an average-sized purse.)
MOBOT is singularly great for sneaks. Not because it allows completely licit brought-in foodstuffs -- it
is
against the rules, though for years I didn't know this and thus took no dark joy in my sneaking -- but because it welcomes backpacks. I could sneak a turkey dinner into a funeral with an average backpack and the entire last hour of
Babette's Feast
in one of those backpacks with wheels.
(MOBOT foolishly provided me with a backpack one year as a membership bribe. If I remember correctly, the bribepack contained an engraved invitation to host all my future surreptitious wine and cheese parties in the English Garden.)
Feel like more of a challenge? Try a tote bag. You can put anything you want in there as long as you also have a large sketchpad. Having a sketchpad instantly transforms you into a sober-minded artist who needs various supplies. Yes, I need the chaffing dish. Yes, that whole cedar-plank grilled salmon is integral to my work.
User "maksim," Wikimedia Commons
Can you imagine walking into a movie theater with a full backpack? What's with the huge gap in acceptable stuff carriers? Are all the fine staff and volunteers at MOBOT andro-botanical automatons constructed and controlled by the geodesic dome Climatron, their symbiocellulose cerebrums incapable of grasping grift?
No, they...OK, maybe they are. The Climatron bears a sinister resemblance to the Hall of Doom from
Superfriends
.
But that's not the reason MOBOT doesn't crack down on overstuffed bags. A movie theater's main concern is that you might be sneaking in a video camera, not a sleeve of Thin Mints*. MOBOT, by comparison, is doing embarrassingly little to suppress piracy. After all, you can't push nature's copyright protection any more than the hometown team, Monsanto, is already doing.
That said, I took advantage of none of this good will one afternoon last week when the Doctor ( my long-time mysterious gentleman caller) and I headed out to MOBOT to enjoy the first week of cherry blossoms. Instead, I had a picnic blanket loose in one hand and an average-sized purse in the other. The purse contained not only all the normal things I drag around with me but also a one-liter bottle of sangria, two plastic cups (see
"Champagne Wishes and Sneakier Dreams"
for explanation, glass-snob rant) and a clam-shell container of miniature kiwi fruits.
The Doctor has known me long enough not to be surprised when unexpected food and beverage suddenly appears on my person, but even after a half hour of walking through the gardens to a sunny spot ideal for spreading out a blanket and watching the synchronous sinuations of blossom-heavy branches and their reflections, he hadn't noticed the bottle of sangria. After I produced it (with cups), he measured the dimensions of my bag. The Doctor is a man of science, of knowable physical geographies. He declared my bag larger on the inside than it was on the outside.
The surprise of sangria emerging from a bag that seems too small reminds us of the miraculousness of spring itself -- that fruit (and wine, and fruity wine) will always follow the intractable granite face of winter with seeking shoots. It was chilled and refreshing with just enough richness and alcohol to compound the rise of blood the first week of spring was already accomplishing.
Keith S. Brown, Wikimedia Commons
The kiwis with which I'm most familiar are hairy and brown, Neanderthals to the velvet blush of a Georgia peach. Miniature kiwis, on the other hand, are smooth and hairless, juvenile and green in all ways, fragile-skinned; the size of kumquats but lacking the reform-school toughened citrus skin of that pocked, restroom-smoking cousin.
On the inside, they are all kiwi, neon green flesh studded with black seeds. As is the joy with lots of miniature foods, you pop the the whole thing in your mouth. They were neither as sweet or as sharp as ripe full-sized kiwis, which made them an unexpectedly nice complement to the sangria. I will make a point of eating more adorable things this year.
As much as I love sneaking food into movies, choosing MOBOT instead of the screening room was a restorative. Cherry blossoms will be blooming there for the next three weeks and should be available on DVD by Thanksgiving, but you should really see them on the big screen while you can. Take a sketch pad to hide your loot and you might just end up using it. Or you might be inspired, as I was, to compose a haiku suite.
On the scenery:
Flash of golden carp
Not in Kurasawa's frame
But through the hawthorn's.

On the company:
Fill my cup again,
And I will ring narcissus Bells
with your name, love.

On getting the last kiwi:
Gonna finish that?
...but I already licked it.
Don't mind if I do!

* Pro Tip:
Put them in the freezer overnight and the chocolate coating is less likely to melt on you in the dark.