Robin Wheeler writes for the blog Poppy Mom. She also has a strange attraction to drinking establishments with jars of pickled -- or possibly fossilized -- eggs. She reports on these dives for Gut Check every Friday.
No, the Dive Bomber didn't get confused and visit
the popular Webster Groves sports bar
.
This
Weber's
is tucked behind the new
Billy Goat Chip Company
on Macklind at Loughborough. I visited Weber's with my friends Deborah and Larry on a March Madness night. So of course the televised sport of choice was trash-can throwing WWE wrestling.
The closest thing to competition at Weber's is a shot called "Sex on the Pool Table." The bartender told us, "We really need to change the name of that one to Sex on the Shuffleboard, since we got rid of the pool table."
Robin Wheeler
Do you need some eggs before you go?
Another patron explained why sex on a pool table isn't a good idea. You know, because of the felt burns. This same patron also shared some commentary regarding the $1 "Purple Pussy" shots, which I don't care to repeat beyond his observation that, if it's purple, you're doing something wrong.
I'm not sure if the guy meant this as a pick-up line or medical advice. (I want to believe that the shot was named after
the comic
.) The bartender shot him a look and a tsk tsk. He slunk away to a table, muttering an apology.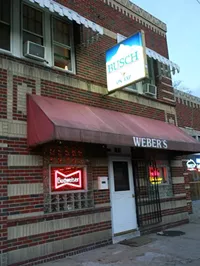 Robin Wheeler
NOT the Webster Groves sports bar.
I don't doubt that the woman tending bar could have kicked the amateur doctor's ass. Larry told me about a night when some patrons were using language disparaging the ethnicity of the new president. One of the female employees walked into their group and brought the conversation to an end with a terse, "Stop it."
I like taverns with such a strong maternal presence. Everyone flies right when Mama's running the tavern. Deborah was able to knit while having a drink without having to use her needles as weapons. If your whiskey sour's too heavy on the whiskey, Pam the bartender will leave the sour mix with you so you can make it just right. Do you need some eggs before you go? She'll get you some eggs.
Weber's is the bar my grandmother would have operated, if she wasn't a teetotaling Pentecostal.