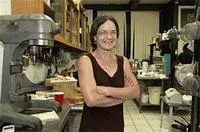 Jennifer Silverberg
Marcia Sindel, La Dolce Via's resident baking genius.
Remember
La Dolce Via
(
4470 Arco Avenue
,
web site
), the much-beloved Forest Park Southeast bakery and cafe that recently
reopened
after a two-month absence for remodeling? Home of the finest scones in St. Louis?
Yes, yes, of course you do. You missed them terribly and
rejoiced
at the bakery's reopening and their return two weeks ago. La Dolce Via missed you, too, which is why there's going to be a big grand reopening shindig next Thursday, April 2, from 6:15 to 10 p.m. Fifteen bucks gets you access to an all-you-can-eat bar.
If you can't wait that long, the cafe just unveiled a delectable-looking new lunch menu, served Wednesday through Sunday until 2 p.m. In addition to the old-school tortas rustica, there's now an array of specials, including an artichoke sandwich, chicken salad, a goat cheese plate, beet salad and hamburger dip (actual dip, made with hamburger meat and spices, service with chips).
While you're there, admire the shiny new counter and laptop bar. If Chris is out serving, congratulate him on the fine job he did building them. Also compliment him on the paint job and tile floor and anything else you see that looks different. He did it all for you: He gave up his birthday celebration and for a week slept on a hammock in the cafe so he could get it all done in time.
For you.