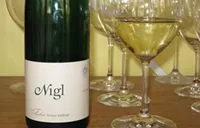 Gut Check International Headquarters was in a bit of frenzy this week as your fearless leader dealt with some car issues. But that didn't stop us from providing you with tips on
the perfect wine for spring
and sneaking
kolaches
into
Watchmen
. We learned about
Cup to Crop
in Uganda and a decidedly non-Irish St. Patrick's Day dessert:
pineapple fluff
.
Readers seemed annoyed by the opening of
Bravo! Cucina Italiana
, while we marked the passing of
Bevo Mill
,
Tower Tacos
and (belatedly)
Jasminka Homemade Cakes
and
Paciugo Gran Caffé
.
That's all for this week. Next week: Can
Momoyama's
live up to the reputation of the beloved sushi restaurant
Yoshi's
?
Have a great weekend. Eat something good.