Fernando de Sousa, Wikimedia Commons
Dara Strickland is a leading expert on sneaking food and drink into the movies. She reports on her exploits for Gut Check (from an undisclosed location) every Monday.

Show: Watchmen, in all its nearly 3 hours of incomprehensible, geeky glory. No one should ever be blamed for taking a full dinner into a film this long.

Food: An assortment of sweet and savory kolaches.

Difficulty: Medium. Kolaches are generally compact and self-contained: They are easily wrapped up and stuck in pockets or bags. However, it takes several to make a satisfying meal, and the array of different flavors available is stunningly comprehensive.


At last count, I've bought three copies of the seminal graphic novel
Watchmen
, each as a replacement for the last, which I trustingly, enthusiastically shared with a friend and never got back.
(It should surprise no one that I have made the acquaintance of many with sticky fingers, in and out of the forgiving flicker of the footlights. They may grant grace, but I do not. I guard my third copy with the Objectivist ferocity of Rorschach.)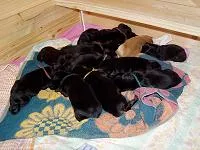 User "Bodlena," Wikimedia Commons
That's not Dara under there.
As someone who both loves movies and enjoyed the graphic novel enough to replace it twice, I thought
Watchmen
would be as satisfying as, say, watching Bernard Madoff tarred and feathered while I clawed my way out from under a pile of happy puppies.
Instead, it felt more like the uneasiness of being at a party with a current beau and unexpectedly running into 2005's model, gone embarrassingly threadbare. It's impossible not to let some doubt in, a drop of ink on clear water.
I'm happy. I have everything I want. But what must it say about me that I used to love that loser? That I prostrated myself to inspire that overbitten slash of a smile, to coax it into braying laughter. What must New think of me now that he's seen the dubious quality of Old?
So that's my dilemma. As someone who read the book, almost every scene of the movie was familiar and fun at best, a thought-provoking artistic choice with which I didn't really agree at worst. As someone who loves movies, I was mortified by the incomprehensible shambles of stiff sex and explosively graphic violence that took almost three hours to unspool before people seeing the story for the first time could finally say: "That? That's some serious sound and fury."
Non-reader moviegoers: I can explain. You just need to read it. Unfortunately, you can't borrow my copy unless you're willing to be dropped off a roof when you want to keep it.
I wasn't nearly as ambiguous about my enjoyment of the kolaches. A kolache is an Eastern European pastry filled with fruit. In the States, kolache also refers to the same yeasty rolls when they contain practically any and all savory fillings -- the more accurate term for this kind, next time you're hungry in Prague, is klobasnek -- and they are very popular in Texas.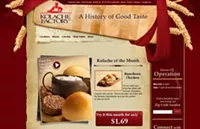 If you're in this great Gateway City and without a Slovak grandma to conscript for kolache creation, head down to the
Kolache Factory
in Brentwood. This is a speculative historian's version of Krispy Kreme had Archduke Ferdinand never been assassinated. Go early and go often: They close at 2 in the afternoon and will serve you only what's left behind the counter when you're standing there, menu be damned.
The menu can be split into roughly three parts, though all are available throughout the day: sweet, savory breakfast, and savory lunch. The sweet includes half a dozen fruit flavors (the real fruit pooled on top of a palm-sized roll like a piece of costume jewelry) as well as the unforgivingly sticky chocolate- cream cheese flavor, which is the most difficult to sneak but most satisfying to eat in the plush embrace of the theater seat.
Savory breakfast flavors (including the wonderfully filling potato, egg, and cheese) are smooth baseballs, just as good cold as warm. If you want to bring them into the theater warm, pop them in the microwave for a minute with plenty of stops for rotation -- the filling is far denser than the mouth-melting outer roll. Wrap in wax paper, then aluminum foil. The wax paper prevents sticking; the foil holds in the warmth while you make your way to your seat. These are everything good about brunch in a single handful. In fact, one of my favorite brunches of all time (there have been many) was sneaking a box of kolaches and the makings of mimosas into Laumeier Sculpture Park.
Savory lunch flavors highlight the Texan origin of the Kolache Factory chain, with the kind of jalapeño-fueled fusion that would give your babicka the vapors. The standout from this Ranchero crowd for me is the spinach kolache. Built more like the sweet kolaches than the enclosed savories, this is honest and flavorful, the earthy and slightly fibrous spinach a good counterpoint to the sweet tooth-torn dough of the roll.
I'm an inveterate punster, but that's not the only reason I paired kolaches with
Watchmen
. First, they are a delicious, crowd-pleasing and highly sneakable food -- the only thing you really need to watch is trying to sneak in too many. Don't squish them. They deserve better, and it's hard to wash your pockets.
Second, a minor (though thematically textural) detail of the graphic novel that I correctly surmised would be dropped in the film is that the original Silk Specter, Sally Jupiter, actively concealed the fact that she was born to Polish parents as Sally Juspeczyk. By eating delicious kolaches while watching Watchmen, I spliced together the film I saw and the story I'd loved. This is the true aim of any sneak, the marriage of disparate enjoyments.