Zach Dyer is a writer living in Saint Louis. He did his thesis research on coffee farmers in Southern Mexico. Since then, he has visited coffee plantations in Costa Rica and Mexico as well as roasters and cafés across the U.S. He blogs about coffee for Gut Check every Wednesday.
A friend of mine in college always invited me to dinner when her father came to town for business. During one such dinner, when it came time to order dessert and coffee, my friend announced to her father that she'd always taken her coffee black. I begged to differ. When we first met, she drank her coffee as many others do, with cream and sugar. While she never credited me with her switch, I like to tell myself that I influenced her -- and many others' -- conversion to black coffee.
Black is the only way to drink drip coffee. I'm not just saying this for myself here. Everyone can benefit from joining the dark side. All you have to do is accept this simple premise: Good coffee requires nothing else to taste great.
Wikimedia Commons
Just say no.
My mother got me drinking coffee in middle school. I learned to drink it the same way she did, with milk and little bit of sugar. While my mom could reach that perfect alchemy between milk, sugar and coffee, I was a poor student. I could never get the combination right, ending up with too much milk, too little sugar -- something was always off.
Then, one day, I just gave up. If couldn't get the milk and sugar combination right, I'd just take it black.
Erwin Schneider, Wikimedia Commons
Resist the urge.
Black coffee may seem a Spartan option, but what is that milk and sugar really doing for you? And that Coffee-Mate creamer you don't have to refrigerate? Scary stuff. Plus, think of the health benefits. Black coffee was the zero-calorie option before people counted calories. Why try to mask the varied and complex flavors that have made this little bean the world's largest agricultural export?
If you're drinking coffee by itself, it better be able to stand by itself. You've got to be sure your beans are up to snuff. But why take my word for it? Coffee is a labor of love for your neighborhood roaster. Get to know them like you'd get to know your butcher. Learn what they have and which varieties best meet your tastes.
Think coffee is too acidic to drink black? Try a coffee that has more body and less acid. Contrary to popular belief, darker roasts typically have less caffeine and more body than lighter roasts.
Still, if you want to enjoy your coffee at its fullest flavor, don't think you have to limit yourself to dark roasts. I like to compare the preference for light or dark roasts to another drink's dichotomy: red and white wine. I needed time to get over a prejudice against light roasts the same way a self-professed "big-ass red" drinker would snub a white wine. Keep an open mind. I've had light roast coffee that was so clean tasting it was actually refreshing to drink.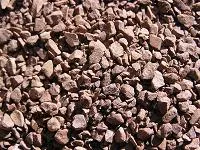 User "Butko," Wikimedia Commons
Heaping. HEAPING.
Now that you've got your beans, take a look at your proportions. The formula is simple: two heaping (and I mean heaping) tablespoons of freshly ground coffee per cup. How much is a cup? Some say eight ounces, but I don't use a measuring cup every time I make coffee. Don't trust the number of cups printed on the side of your carafe either. The numbers there have little to do with the actual serving of coffee most people drink. To start, pour water into your coffee cup. How much is it? How does it compare to the numbers on the carafe? Use this as an easy way to gauge how much water you'll need for the size cup you drink.
If we're really going for the best cup we can, better water is an easy way to improve taste. We have excellent tap water here in St. Louis, so purified water is not as important as it might be elsewhere. (Like the east coast, where all the water tastes salty to me.)
Finally, make sure your coffee maker gets hot enough. Lukewarm is not an acceptable temperature to brew coffee. (There is, of course, the cold-brew technique, but that's another post.)
Don't get me wrong: The dark side is not as sexy as it might seem. Sometimes you have to make it through some pretty bad coffee, like I did the other night, when my host served decaf hazelnut-flavored coffee at a dinner party. But stick to your principles. You wanted coffee, not a milkshake. No quantity of milk and sugar was going to save that coffee, so don't backslide now!
Yes, black coffee can be a lonely road. Black-coffee drinkers are often faced with incredulous co-workers and accusatory acquaintances. "How can you drink it like that?" But I ask myself, is there any other way to drink it now that I've accepted the premise that good coffee needs nothing else to taste great?