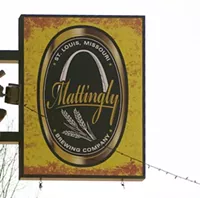 This week I visit Mattingly Brewing Company, the small brewpub in Benton Park.

When I was a grad student in Iowa City, my classmates and I often hung out after our weekly writing workshop at this bar called Martinis. Six days of the week it was a cesspool of underage corn-fed coeds and frat boys looking to screw 'em, but on Tuesdays it became the refuge of several dozen wannabe Hemingways and their bruised egos. There we drowned our dreams thanks to what remains the most incredible beer special I've experienced: $1 domestic draft beers, $2 imports. And domestic meant domestic. Anchor Steam? A buck. Sierra Nevada? One measly greenback. And $2 for a pint of Guinness wasn't too shabby, either.

Check back here tomorrow to see what I think.