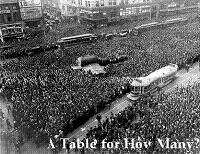 Stefani Pollack is the author of the food blogs Cupcake Project and Food Interviews. She is also a member of the St. Louis Dinner Club. She blogs about her large-group dining experiences for Gut Check.

Thai Sawadee
171 Hilltown Village Center
, Chesterfield
636-728-0308
Booking was a Breeze
The friendly person from Thai Sawadee to whom I spoke on the phone didn't bat an eye at our reservation for twelve people. (OK, I couldn't see his eye over the phone.) I told him our group's size might change -- but I would call to confirm if that happened: "No problem."
Thinking Ahead
My husband and I, along with my mom (in from out of town), arrived at Thai Sawadee a bit before the rest of the group. We told the staff we were with Dinner Club, and they immediately got our table ready. Our server took me aside before any of the guests arrived and asked if, because it was a slow night, we would be interested in separate checks. "On a busy night," he said, "separate checks are not an option."
I really appreciated that our server showed the foresight to ask about the bill prior to the end of the meal, and that he made sure that I wouldn't expect separate checks on every visit. That last part will save a future server many headaches: "My last server did this for me, why won't you?"
Happy?
As I mentioned, it was a slow night at Thai Sawadee, but as we've learned through our many Dinner Club meals, slow nights don't necessarily equal good service. At Thai Sawadee, however, the service was stellar. Our server checked on us regularly, kept our water glasses full and asked whether we were happy with everything. It's amazing how far a little concern about your happiness can go when a server is sincere about it.
Plate, Plate, No Plate

We couldn't quite figure out Thai Sawadee's method of serving food. When it was just about time to eat, our server arrived at the table and gave certain people plates. Those with plates were served dishes family-style -- a plate of food in the middle of the table from which they filled their individual plates. Those without plates (maybe it was just the noodle dishes) received a single plate with their food on it -- no serving plate.
We might not have had so much time to wonder why some of us had plates and some didn't had all our food arrived at the table at once. Instead, dishes sporadically emerged from the kitchen. The lucky people with plates could pick off of the dishes of those sitting near them while they waited for their own dishes to arrive. Those who did not have plates just had to stare and drool.

Successful Separate Checks
Because of the advance planning, our server knew which dishes belonged on each check, and the payment process went quite smoothly.
Will I Return Another Thaim?
If I lived in Chesterfield, I'd be at Thai Sawadee again and again with groups of all sizes. Not only was the service superb, but the food's quality, taste, and presentation rivaled and even exceeded some of my favorite Thai places in town. If you live near Chesterfield, Thai Sawadee is a must try, with or without a group.