Todd Ehlers, Wikimedia Commons
Robin Wheeler writes for the blog Poppy Mom. After years of making and eating fancy food, Robin is sick of it all. She's returning to the basics: recipes that haven't surfaced in three decades. She reports on the results for Gut Check every Tuesday.
If we've learned anything from mid-century stereotypes, it's this: People drank a lot back then. Between the nuclear threat and being crammed into a
girdle
, you'd probably have a
Pink Lady
or four before making dinner for your family, too.
If you're going to drink, you're going to eat dip. Chop a bunch of green olives from Dad's martini stash. Smash them into a 3 oz. Kraft Garlic Cheese Roll. Unless it's 2009 --
a year after the demise of the cheese roll
, then substitute softened Velveeta.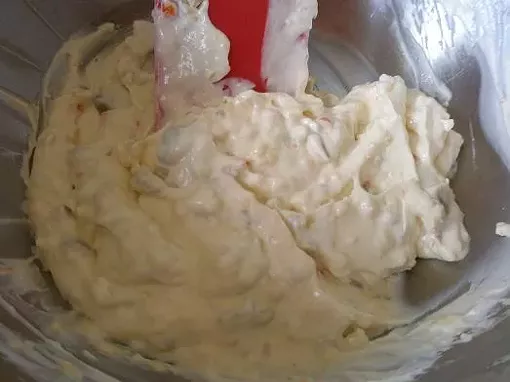 Robin Wheeler
The dip: Stirred, not shaken.
Mix with sour cream, lemon juice, some Tabasco, a healthy dose of MSG and you've got a mighty fine dip for cocktail hour. Unless all that gin from the Pink Ladies causes you to confuse the refrigerator with the freezer and your dip becomes a dairy-based ice brick.
Screw it. Tell 'em you did it on purpose and you've got the makings for the Nippy Cheese Freeze Salad, which appeared in
the 1956 edition of The Cheese Cookbook
from the Culinary Institute of America.
Robin Wheeler
A dairy-based ice brick.
The dip's frozen? No problem! You're a resourceful housewife, right? Chop that cheeseish block into cubes (or shards, because the ice crystals cause all that dairy product to shatter in the presence of a knife). Throw it on some lettuce. Toss it with French dressing.
The French dressing is a trouble-maker, as the book doesn't specify whether it's traditional French dressing (a vinaigrette) or that red stuff Kraft started making in the '30s. It's probably the latter. If you don't have any on-hand, it means you're a bad mother. Make
the 1939 version
, because you're in no condition to drive to the market for the good stuff.
Robin Wheeler
Greens with cheese brick (shattered) and French dressing (Kraft red-style).
With any luck, your family will be so soused from cocktail hour that by dinnertime, they won't notice the frozen pain in their back teeth from gnawing on dairy products with all the texture of frozen Styrofoam. If the combination of roughage and abused dairy products destroys their digestive tracts the next morning, they'll blame it on the gin.