Dave Nelson is the author of the blog Beer, Wine and Whisky. He writes about wine for Gut Check every Tuesday.
The world produces an ocean of chardonnay. In California alone, almost 100,000 acres of this incredibly popular grape variety are planted. That's enough chardonnay to make -- using modest crop and efficiency estimates -- over 250,000,000 bottles. Add the chardonnay acreage in France and Australia, and the worldwide total pushes 400,000 acres.
Given chardonnay's ubiquity, it's not surprising that most chardonnay is garbage. However, despite the current hipster aversion to anything and everything chardonnay, there are some really nice wines made from this over-exposed -- and frequently over-manipulated -- over-ripe grape.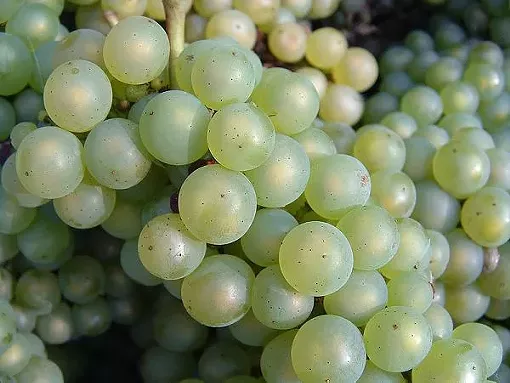 Dan Random, Wikimedia Commons
A close-up of chardonnay grapes.
Chardonnay is an old variety, almost certainly originating in the Burgundy region of western France. DNA research at the University of California - Davis determined that chardonnay (along with fifteen other grape varieties!) is the product of a cross between an early form of pinot and a rarely cultivated, basically crappy variety called
gouais blanc
, which the Romans brought with them when they invaded the area. Not surprisingly, considering the variety's origin in Burgundy, I find the most reliable (which is far from saying fool-proof) chardonnays to come from there.
Burgundy, along with several slightly to very obscure regions nearby, have an abundance of limestone in their soil, which seems to combat chardonnay's tendency to be a bit ponderous. Chardonnays from this region have a sharpness to their acidity as well as strong mineral flavors, both of which cut through and balance the wine's richness. These chardonnays are much more appealing to me -- and much more useful at the table.
I'm also not a fan of oak flavors in my wine, though I can tolerate it more in chardonnay than most other grape varieties. To minimize oak, I tend to stick with basic Chablis (though many top-flight Chablis have no oak influence either, they do have top-flight prices), or "lesser" appellations, like those in the Mâcon and the Côte Chalonnaise, where most producers go light on or completely skip the new oak.
Plenty of new world chardonnay producers have jumped on the "unoaked" bandwagon, but many make wines that are simply too high in alcohol for me. With no oak or barrel- fermentation flavors to hide behind, their alcohol levels of 13% or higher (and don't forget
the federally-permitted fudge factors
!) become problematic, especially when you try to match the wines with food. The alcohol component clashes, rather than complements, resulting in harsh, hot flavors.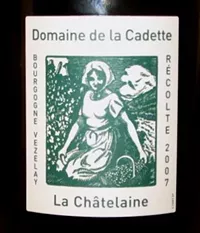 So, how do I like a chardonnay to taste? Acting on a tip from David Schildknecht in the latest issue of
The Art of Eating
-- home to some of the finest wine writing in the English language -- I picked up a bottle of
Domaine de la Cadette
2007 Bourgogne Vézelay La Châtelaine when I saw it locally. Vézelay is located about twenty miles south of Chablis, and the area is a relative newcomer, with winemakers being granted the ability to label their wines as "Bourgogne" only in 1996, though they have been growing chardonnay there much longer.
The wine is very pale gold in color. The initial nose is chalky lemon with the tiniest touch of richer fruit. As it warms, that richness gives shape to the nose, but it remains lean and elegant with just a hint of nuttiness from some oak. It's a bit broad in the mouth, where I would prefer greater acidity. I like this wine even more when I take a hearty mouthful rather than a sip -- it seems better integrated somehow. It held up nicely on day two after spending a night recorked in the fridge. The wine is imported by
Kermit Lynch Imports
); I picked up my bottle at
The Wine & Cheese Place
in Clayton for $21.
It's worth noting in light of
the last edition of The Noble Writ
that the grapes for this wine were raised organically, but the producer and importer have not bothered seeking any of the official USDA "organic" labels. As a further tie-in to previous posts,
J.P. Brun
produces one of the few Beaujolais Blancs, and it's a fine, reliable, reasonably-priced chardonnay as well.