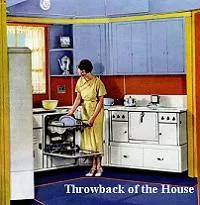 Todd Ehlers, Wikimedia Commons
Robin Wheeler writes for the blog Poppy Mom. After years of making and eating fancy food, Robin is sick of it all. She's returning to the basics: recipes that haven't surfaced in three decades. She reports on the results for Gut Check every Tuesday.
Mrs. Paul Jokinen of Michigan once thought it wise to put orange slice candies in cookie bars.
Not only did the Kalamazoo County Fair think this was worthy of a blue ribbon, but
Favorite Recipes of America
in Louisville, Kentucky, deemed it publishable in its
1968 dessert cookbook
.
The recipe is simple: Make a batter with shortening, brown sugar, eggs, milk, flour, and baking powder. Spread half in a 9" loaf pan. Cook chopped dates (In retrospect I probably should have used those old sugar-preserved date bits instead of no-sugar-added dried dates) with water, a ton of sugar, and some flour until it's a thick compote. Stir in walnuts, and then trash the whole thing by adding 15 whole
orange-slice candies
.
Spread the ruined compote on batter. Top with remaining batter. Bake.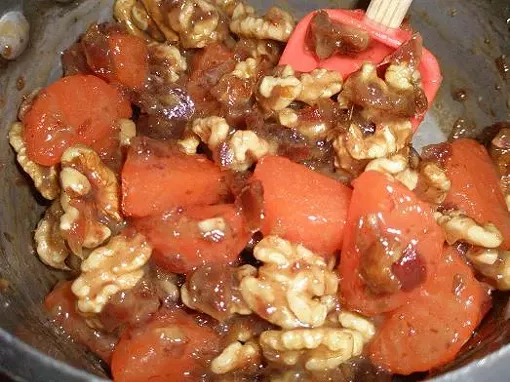 Robin Wheeler
The batter, trashed.
At first taste, it's not bad. Crusty outer layer with a flavorless moist cake. Then the warm layer of dates and walnuts -- did this flavor combo fall out of favor? It's delicious! Warm, comforting, grandmotherly... oh my holy God there's a giant molten glob of hot orange slice eating the skin off my tongue.

It's hard to believe that Mrs. Paul Jokinen didn't hate humanity. She probably just wanted an inexpensive, easy way to make fruitcake without using actual fruit.
Because I like to make a good first impression, I took a still-warm piece of orange-slice bars to my first meeting with Gut Check's Ian Froeb. His impression? "This might be the stickiest thing I've ever eaten."
Robin Wheeler
"This might be the stickiest thing I've ever eaten."
Wait a day and it'll be the hardest thing you've ever eaten. Dentists would frown at the recipe's 85% (I'm estimating) sugar content, but that's OK. Eating a day-old bar will pull the teeth right from your gums, saving them from decay.

And yet...I can't stop eating it. Aside from that first bite, when the hot orange slice tasted like something produced by Satan with the sniffles, I like it.

It tastes the way my grandma used to smell.