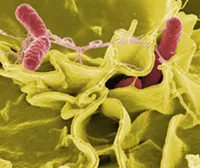 Rocky Mountain Laboratories, via Wikimedia Commons
The salmonella outbreak in peanut butter from the Peanut Corp. of America has dominated
the food-related news
for the past few weeks. That's understandable. For better or worse, food usually doesn't get much attention unless something goes horribly wrong -- and when that something involves America's beloved peanut butter, that attention is sure to be keen.
That said, the actual threat of poisoning by salmonella (as seen in the oddly lovely photo to the right) is rather low. At present, approximately 500 people nationwide have been sickened by this outbreak. In a nation of more than 300 million, that's hardly significant.
What's more,
a new study
from the
Infectious Diseases Society of America
-- wouldn't you love to attend that Christmas party -- finds that the threat of food-borne intestinal infection is, in general, relatively low:
Outbreaks linked to food, such as the current Salmonella outbreak involving peanut butter that has sickened more than 500 people in 43 states, account for only about 10 percent of intestinal infections, which are medically termed as enteric infections. The new study, in the February 15 issue of The Journal of Infectious Diseases, now available online, suggests that methods for controlling bacterial enteric outbreaks may not be completely relevant to controlling the other 90 percent or so that occur sporadically.

...Analysis of the data suggested that non-food exposures pose risks of sporadic bacterial enteric infection that are comparable in magnitude to those of food exposures. In particular, one surprise was a strong association with swimming and other forms of recreational water exposure for all four types of infection.

The upshot? Don't eat recalled peanut-butter products. But don't fret, either. And, please, try not to swallow too much water when you go swimming.