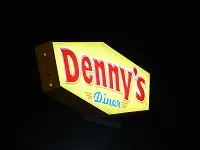 Andreas Praefcke, Wikimedia Commons
Tucked in among this year's dreary crop of
Super Bowl ads
was a bombshell from
Denny's
: The restaurant is giving away free Grand Slam breakfasts!
Why are they giving them away?
Because no one in his or her right mind would ever pay for a Grand Slam breakfast!
(I kid.)
The offer is good until 2 p.m. today. If the Denny's Web site is any indication -- crashed when I last checked -- expect a wait.