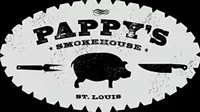 Pappy's Smokehouse
(
3106 Olive Street
;
Web site
) celebrates its first birthday tomorrow, and the Midtown barbecue joint is throwing one heckuva party: Owner Mike Emerson informs me that right now
two
whole hogs are on the smoker, slowly transforming into what more than a few of us consider the best barbecue in town.
It's been quite a first year for Pappy's. Among many honors, it pulled off an unlikely -- but much deserved --
RFT
trifecta:
Best New Restaurant
,
Best Barbecue
and the #1 spot in my
Top Ten Dishes of 2008
.
If you still haven't visited Pappy's, what are you waiting for? Read
my review
from last year and then get moving.