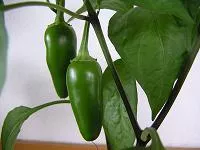 OK, so it's no
Bacon Explosion
, but a colleague passed along a link from the barbecue forum the
Smoke Ring
for something called an
Atomic Buffalo Turd
.
With a name like that, it has to be good, right?
Basically, it's a souped-up jalapeño popper, which seems just about right for a Super Bowl snack.
You stuff a jalapeño with cream cheese and
an entire cheddar-flavored cocktail weenie
, wrap it in
a slice of bacon
and smoke over low heat for a couple of hours. Visit the Smoke Ring for appetizing, full-color photos of the whole process.
Serve 'em while you're waiting for the Bacon Explosion to finish.
What will you be serving at your Super Bowl party? I'll be making chili, and my wife promises a reprise of last year's
Velveeta and Ro-Tel dip
.