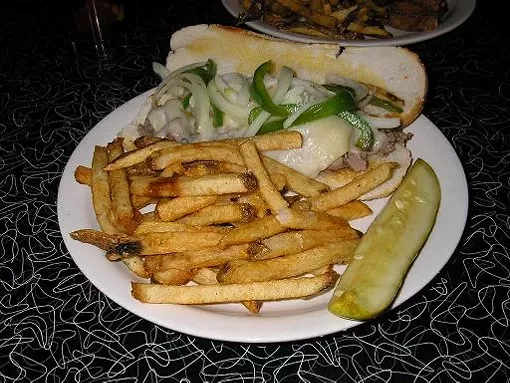 Hot chocolate, grilled cheese and tomato soup: Snow days put me in the mood for any or all of those three things, and when my wife and I made the short, but treacherous, walk from our house to nearby
City Diner
(
3139 South Grand Boulevard
;
Web site
) during yesterday's snow-sleet day for lunch, I had the diner's grilled-cheese sandwich in mind.
Until I opened the menu and was reminded that City Diner serves a cheesesteak, the South City Philly.
As you can see in the photo above, City Diner's cheesesteak doesn't cheat you on the cheese. But long-time Cheesesteak Quest readers might also notice that the cheese has been laid atop the steak, not mixed in with the meat while being cooked on the flattop -- a Cheesesteak Quest no-no.
The meat was thinly sliced, but again, since it wasn't chopped into smaller pieces, allowing the gooey cheese tocoat as much of it as possible, this South City Philly was closer to a boring ol' steak sandwich than a true cheesesteak. The onion and green bell pepper only reinforced this perception.
The greatest sin was the use of mozzarella. Not because it's a bad cheese -- it's not -- but it doesn't reach that state of practically liquid perfection that American or Provolone can. (To say nothing of Cheez Whiz.)
All in all, an OK sandwich, but not a great cheesesteak.