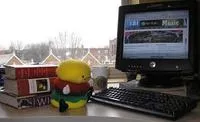 Feast: George Mahe learns an interesting way to lose weight.

Off the Menu: Joe Bonwich has news of a new Super Smokers.

Show Me Vegan: Lisa bakes cornflake-fried vegan chicken.

Iron Stef: A wild duck becomes duck stew with turnips and apples.

Sounding My Barbaric Gulp: Kelly bakes a French pear tart.

A Veggie Venture: Alanna has a recipe for homemade minestrone.

FamilyStyle Food: Karen bakes up a loaf of rosemary-lemon no-knead bread.

Sugar, Spice & More Things Nice: Rach enjoys a simple vegetable soup.

Do you know a St. Louis food blog we should read? Do you write one yourself? Drop us a line.
-
Ian Froeb