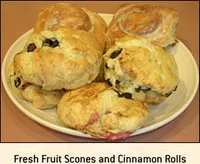 La Dolce Via
(
4470 Arco Avenue
), the Forest Park Southeast
cafe
that has the best
baked
goods
,
Sunday
brunch
and scones in the city, and also serves weekend
dinners
that remain the
best-kept secret
in the St. Louis dining scene, has closed up shop for the months of January and February. But this is good news. Really!
Last year at this time, the cafe's owner,
Marcia Sindel
, was going to shut the place down for good. Business was
slow
, and, more importantly, the building was in desperate need of renovations. Sindel planned to close the cafe and continue baking cakes and pastries on her own.
But last month, a group of investors agreed to pay for the renovations, which will take place during January. In February, Sindel will begin selling her cakes again, and in March the cafe will reopen, scones and all.
It'll be hard to do without La Dolce Via in these drab, cold months when we are most in need of carbs. But we'd much rather have that than do without it forever. After several weeks of grim restaurant tidings, it feels so good to post some happy news about one of our very favorite places.
-
Aimee Levitt