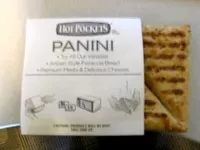 This week the Bear Market embarks on a great adventure: the sandwich. Last weekend we bought a stack of frozen grocery store panini and flatbread and stockpiled them in the RFT freezer. Barring theft, we will try out a new one every day this week.

It is foods like Hot Pockets that give frozen sandwiches a bad name. To give the inventors of Hot Pockets the benefit of the doubt, there is an ancient tradition of baking meat in pastry crusts. Meat pies seem kind of charming to us now -- they do, after all, combine two of our favorite things -- but maybe there is a reason they were replaced by apples and chocolate and cream. Maybe they sucked as much as Hot Pockets do.

Hot Pockets have, inexplicably, run rampant over a broad range of cuisines and successfully subjugated and ruined sub sandwiches, croissants, tortillas, calzones and (the ultimate indignity) breakfast. We tried eating them when they first came out, when we were in college and subsisting on Kraft Macaroni & Cheese. We failed miserably.

So it was with some trepidation that we approached the freezer this afternoon. The pitying glances bestowed upon us by our co-workers as we pulled out the Hot Pockets Panini box didn't really help.


The packaging itself didn't do much to assure us that Hot Pockets had much respect for its customers. Step 2 of the Microwave Cooking Directions instructed us to "Place on paper plate & microwave on HIGH (see chart)." We duly consulted said chart. It was one row by two columns and informed us only that we should microwave 1 Hot Pocket Panini for 3 minutes, 15 seconds. That was it.

Weren't charts invented to compare data? What if you wanted to (God forbid) microwave two Hot Pockets Paninis? Why couldn't the manufacturers of Hot Pockets merely suggested that we microwave for 3 minutes, 15 seconds instead of forcing us to consult this ridiculous, superfluous chart?

Anyway.

Our panini emerged from the microwave smelling awful. Our cubemates edged away. Our camera refused to take a picture of it. But we feel honor-bound to give it a complete analysis.


Name: Hot Pockets Panini, Steak & Cheddar.

Cost: $3.29 at Dierberg's.

Preparation Time: Three minutes, 15 seconds in the microwave, plus 2 minutes to cool.

Quantity: A full square of panini, neatly divided into two right triangles. Would probably be sufficient for lunch if you ate the whole thing.

Bread: Advertised as onion focaccia bread, though we couldn't actually taste anything particularly onion-y. The consistency ranged from tough to soggy. The exterior of the bread is covered with diagonal brown stripes which we suppose must simulate those that come from a grill, sort of like the hamburger patties from Burger King.

Filling: Advertised as "seasoned cooked beef steak, cheese & roasted onions with sauce". Yes, we know it is our own stupidity and naivete that made us fall for the word "steak." What it actually looked like was wet cat food. There was lots of sauce and tiny strips of steak that would not strain the jaws of a small mammal. The cheese was a disturbingly bright yellow, similar to that of a school bus. (An actual school bus, not a clean, idealized one.) The strongest flavor was the onions. The strongest smell, too.

Note: Also comes in Bruschetta Chicken and Deli-Style Ham and Swiss.

In short: Yes, we went into this one with a great deal of prejudice, but the Hot Pockets brand does not really inspire a lot of confidence, you know?

- Aimee Levitt