Every Wednesday, from roughly 5:30 to 6:30 p.m., Delmar Loop institution Cicero's hosts beer school. As part of a semi-regular account of the beer sampling and sudsy knowledge gained, RFT editorial fellow Matt Kasper will write about the beer he tastes and the people who present it.
If you are reading this at work and get thirsty, Matt apologizes. But maybe you shouldn't be wasting company time.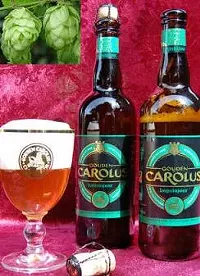 www.amby-import.dk
From the first sip I was excited. Pete Larsen, of Wetten Importers, was talking about Belgian Ales -- the four different hops used and the fermenting process, which takes up to three years -- but I was already lost in a dry, crisp paradise.
I was drinking Gouden Carolus Hopsinjoor, one of the four beers we sampled last night that was made in Belgium and shipped across the pond. At 8 percent ABV, this isn't the kind of beer you pound. After the tasting, I drank it in a wide, u-shaped glass -- trust me: it's something to savor. The pleasant sour finish reminds me of the hint of salt water in your mouth after returning from the beach.
It was good is what I'm trying to say. In fact, it might be best beer I've had to date at beer school. There, I said it.
Matt vs. the fruit beers, after the jump...
The other three? Not so much. I'm not a fan of fruit beer. To be fair, the fruit beer that we sampled was high quality. The first one, Floris Apple, tastes a lot like Granny Smith apples. It's sweet in a refreshing way and is only 3.5 percent ABV. Larsen said the apples are typically blended after the white ale.
The third beer was the St. Louis Kriek Lambic, a cherry-flavored beer. Morello cherries mature in the gueze-lambic beer for at least six months.
"The pit of the cherry gives it an almond flavor," said Larsen.
That was kind of true, but it tasted a lot like cough syrup to me. The beer is lighter at 4.5 percent ABV. At the end of the process, to get the full flavor, the cherry is blended with the aging lambic.
The last beer of the night was the Kasteel Rouge. It looks beautiful in the glass: a dark red that seems perfect for sipping over a long period of time. The beer is made by combining Castle brown beer with sour cherries. Again, the cherries and beer mix together for six months.
Larsen saiod when there is a delicate process of aging and mixing, vertical tasting is a good practice.
What, pray tell, is vertical tasting?
"You drink the same beer at different years," he says.
Maybe that would make the difference. To me, it was a little too sweet like the other cherry beer. There is also a sour aftertaste that made me cringe slightly.
Cheers 'til next time.